How Can Freelancers Use MagicTask to Complete More Projects?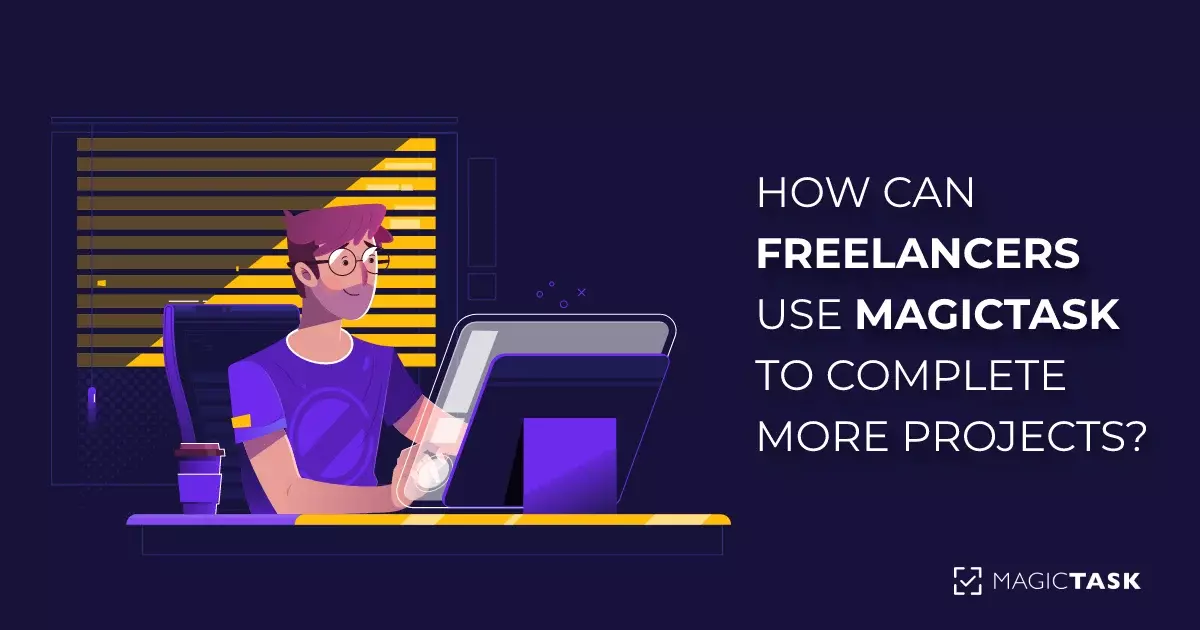 The last two years have seen a lot of full-time workers move on to build freelancing careers and create successful businesses. Compared to a regular 9-5 job, freelancing generally offers more flexibility and choice in how you work. Freelancers set their hours, choose who they work with, and have much more flexibility in their services.
But this doesn't mean that freelancing is easy. Unlike a full-time job where you'll be handling just one role, with freelancing, you're responsible for your entire business.
Let's explore the different challenges that freelancers face and how they can use MagicTask to manage them effectively.
Task Project Management Challenges Faced by Freelancers
One of the most important factors determining freelancer success in their processes. Seasoned freelancers and marketers would say that it's not one viral story or one huge client that gives you results; it's consistency.
To be successful, freelancers must build stable and robust processes that help them provide the best results to their clients.
Imagine you're a graphic designer who works with marketing organizations. You can't just wait around for inspiration to strike to get started. You need a process that helps you understand your client briefs and get you going.
Just about all the task management challenges that freelancers face revolve around this.
Onboarding
Most people who hesitate to freelance cite the potentially inconsistent stream of clients as one of the main reasons. Finding new clients is certainly one of the biggest challenges, but the process continues beyond a client saying yes to your pitch.
To find a steady stream of clients, you must consistently network, find potential leads, and follow up regularly. Once you identify a potential client, you have to work on a good pitch and speak to the client. If the client wants to work with you, you'll have to discuss how you will work together, draft a contract, and close the deal.
Every freelancer has processes to approach this that works with their style, the industry they operate in, and the nature of their work. What works for a copywriter in health tech may not work for a UI/UX designer in fintech. But this doesn't mean you can create a new process with every new client. You need a clear pipeline from identifying a new client to closing the deal. Building and maintaining this process is one of the main challenges freelancers face.
Managing multiple clients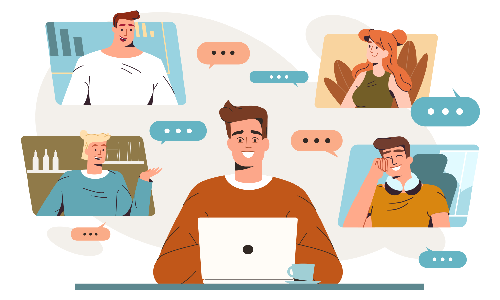 Freelancers rarely work with just one client. Depending on their workload and bandwidth, they handle anywhere from 3 to 10 clients simultaneously. This is often a necessity. Clients may cancel a project or stop working with them for some reason at any random time. In such situations, freelancers may find no work until they can find new clients.
More clients usually mean a higher monthly income and a consistent load of assignments. But managing them can be complicated. You have to be on top of all the assignments and deadlines and ensure that you maintain the quality of your work.
Compared to a full-time job, freelancers don't have a project manager who'll inform them of the tasks they must complete within a week or work on a given day. They have to consider the different deadlines and priorities and predict the effort they'll have to put in. Based on this, they must make decisions on the fly while keeping track of their energy.
Handling multiple projects
Some freelancers can treat individual clients as projects. This is common if they offer services that involve just one task, such as website copywriting services or graphic designing. Here the clients will hand them a brief, and they can run with it.
But for some freelancers, this approach won't work. Sometimes they offer a more extensive set of services, or their services include multiple types of tasks. For instance, consider a freelancer offering social media management services. They may be responsible for producing the content, creating the visuals and design, engaging with the audience, and maybe even collaborating with influencers and other brands. A similar situation arises when freelancers offer a complete app or website development services, product launch planning, or other services that require them to keep track of multiple projects.
Some freelancers may work with others in a similar industry to deliver a complete package to the client. To take the above example, a social media manager may get someone to prepare the graphics and another freelancer to work on the videos. They may focus on the overall strategy in the meantime.
Many freelancers often have their projects as well. Some offer courses on the same industries they freelance in, and some offer consultations.
Freelancers often get very good returns on such projects. Businesses also often find it easier to work with them since it's a much more hands-off approach. But this approach is challenging, takes a while to get the hang of, and can go wrong without proper planning.
Juggling different activities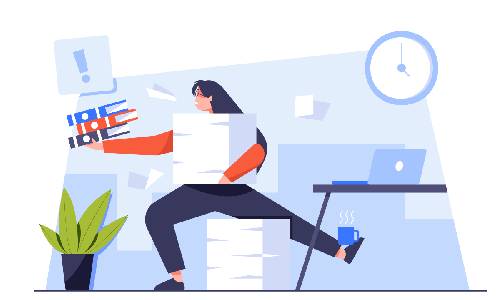 Freelancers also have to focus on other aspects of their business besides the assignments from clients. They need to market their services and make their target audience aware of them. They must build a professional brand even if they don't establish an official business.
For some freelancers, this means building relationships within their industry. To make the most out of this, they must constantly research the events they want to participate in. They'll have to figure out who will be there, how to present their business, and plan their pitch. They need to allocate considerable resources for this, and they have to do this continuously.
In a different approach, some freelancers use social media to find their clients. For this, they need to constantly update their social media presence. They have to constantly produce content that presents themselves as experts in the industry. Different freelancers have their approaches to this. Some focus on just one platform, while others may have different platforms they get clients from.
Juggling these different activities means taking on the roles of the CEO, COO, marketing director, business development executive, and just about every position a business needs. And this can get overwhelming very soon.
Constantly changing deadlines and calendars.
Freelancers can have a rough idea of what's coming in the month ahead. But it's not easy or may not even be possible to plan what they'll do every day of the month.
Clients may assign projects throughout the month with different deadlines. Based on this, freelancers will have to constantly update their schedules. They have to take into account the deadline for other projects from various clients. And they may have to do this every day.
Unlike full-time employees, freelancers don't get paid per day. They may get paid by the hour, but in most instances, they get paid per assignment. So more work they can take up, the more they get paid. But if they're unavailable, the client may assign the work to someone else. They may even have to look for more work later that week if things go really wrong.
They can't miss deadlines either unless they have a really good reason. If there are delays in deliverables, it will affect their reputation, and they may find it challenging to find work later in their career. And failing to plan well is not a good enough reason for late deliveries.
How to Use MagicTask for Your Freelance Projects
MagicTask is a task management system designed to streamline the workflow for individuals and teams. Here's how you can use MagicTask to manage your freelance career efficiently.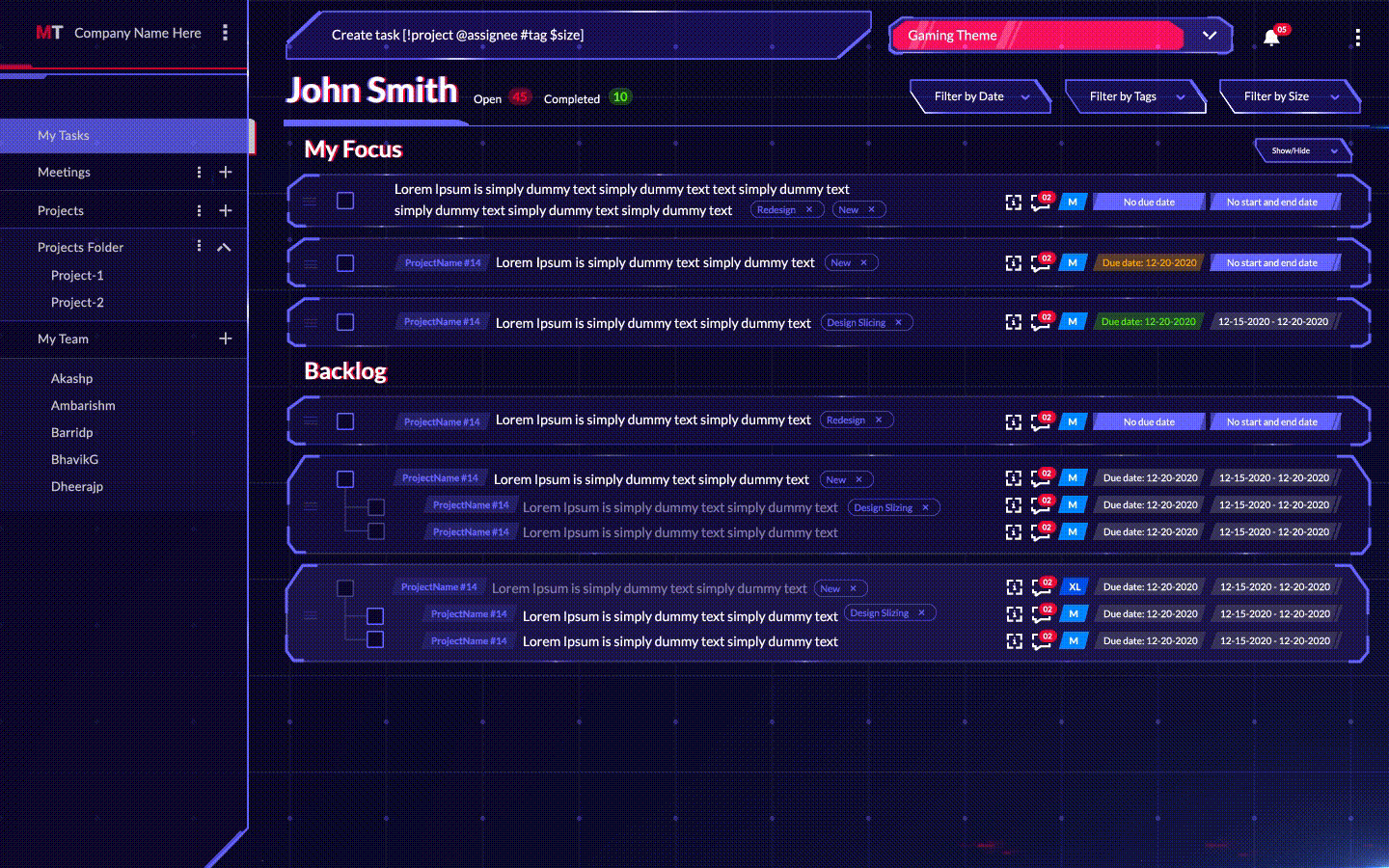 1. Create projects for different clients
When you onboard a new client, start a project on MagicTask. Add all your tasks related to the client to this new project. This will help you get a clear picture of the tasks from different clients, just like putting new assignments into separate inboxes.
2. Use labels to mark your tasks
MagicTask lets you add labels to your task. Users can use these labels as they see fit. Freelancers can use these labels to track the progress of their tasks. If you're into graphic design, you can tag different activities as 'received briefs,' 'in progress,' 'in review,' 'completed,' and other labels.
Freelances can use labels to handle their projects as well. They can use labels to mark the status of different tasks under these projects.
3. Set deadlines and due dates
MagicTask allows users to set start, end, and due dates, while most task management tools only have a due date feature. With these features, freelancers can effectively plan according to their working styles.
4. Use the My Focus area for the tasks for the day
Freelancers often need a lot of flexibility in their schedules, as discussed above. "My Focus" is a MagicTask feature freelancers can use to plan their day. When you start the day, you can look at your tasks and drag those you plan to tackle on the day to this section. This can help you make a quick list for the day instead of changing the plan throughout the day.
This feature will be helpful if you follow the Getting Things Done method. You can reduce your cognitive load and focus on what you're doing at the moment with this section.
5. Use theme levels and points to motivate yourself
One of the biggest questions people should ask themselves before they freelance is if they can motivate themselves. Can they push themselves out of bed every day and sit in front of the laptop? Especially when no manager calls you if you're late on your deliveries? Unlike a full-time job, the consequences of not being punctual or slacking off are not immediate. Neither are the benefits of putting all your energy into your work.
With MagicTask, you can gamify your workdays. The platform gives you points on tasks completed, which you can use to purchase new themes. The themes have a different look and feel and can keep you excited with sound effects and animations.
6. Set priorities on tasks
With MagicTask, you can set different priorities for your tasks.
With freelancing, priorities can change in a day or two. But it certainly helps to set priorities so that you can quickly figure out which ones to handle next.
While this can be helpful to give you a good picture of your pending tasks at a glance, this feature can also be beneficial if you work with a team. You can communicate which tasks need immediate attention and which can be done later.
7. Mark task size
Task size is a unique feature in MagicTask. You can mark your task as Small, Medium, Large, or Extra Large. But MagicTask doesn't give any specific meaning to it. It's up to you to decide what this means.
You can use these labels to denote the time it may take to finish a task or the revenue you may generate from it. Either way, this will help you give you a bird's eye view when you look at your tasks.
Manage Your Tasks and grow your freelance business quickly With MagicTask
MagicTask can give you a unified space to keep track of all your projects, clients, and deliverables, and with its gamified approach can keep you motivated throughout.
Try MagicTask and watch your productivity soar.
Similar Blogs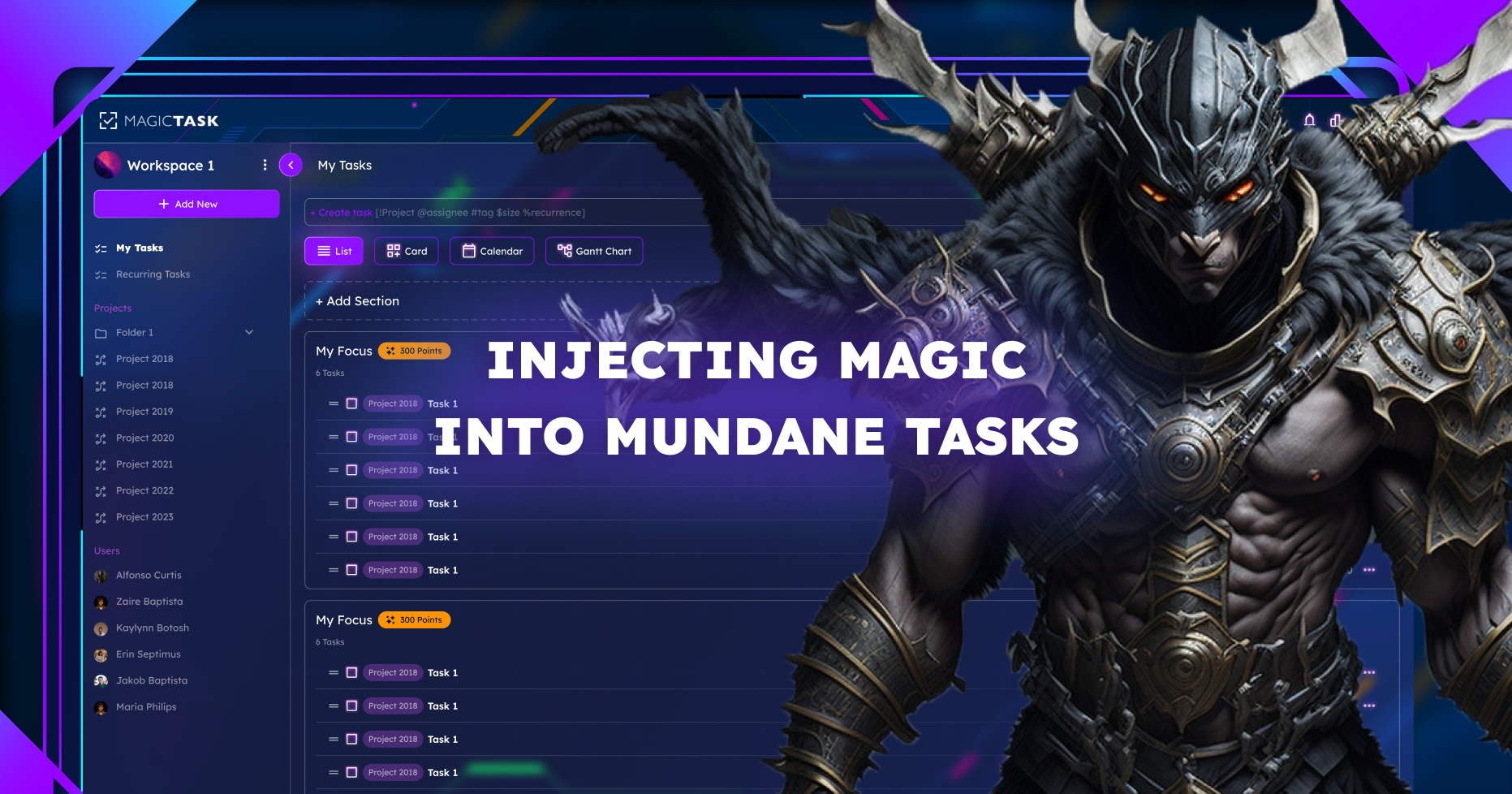 Injecting Magic into Mundane Tasks: A Sneak Peek at MagicTask V3's Concept Art!
Concept art has always been a window into the imaginative realms of creators, laying the foundati
Read More

→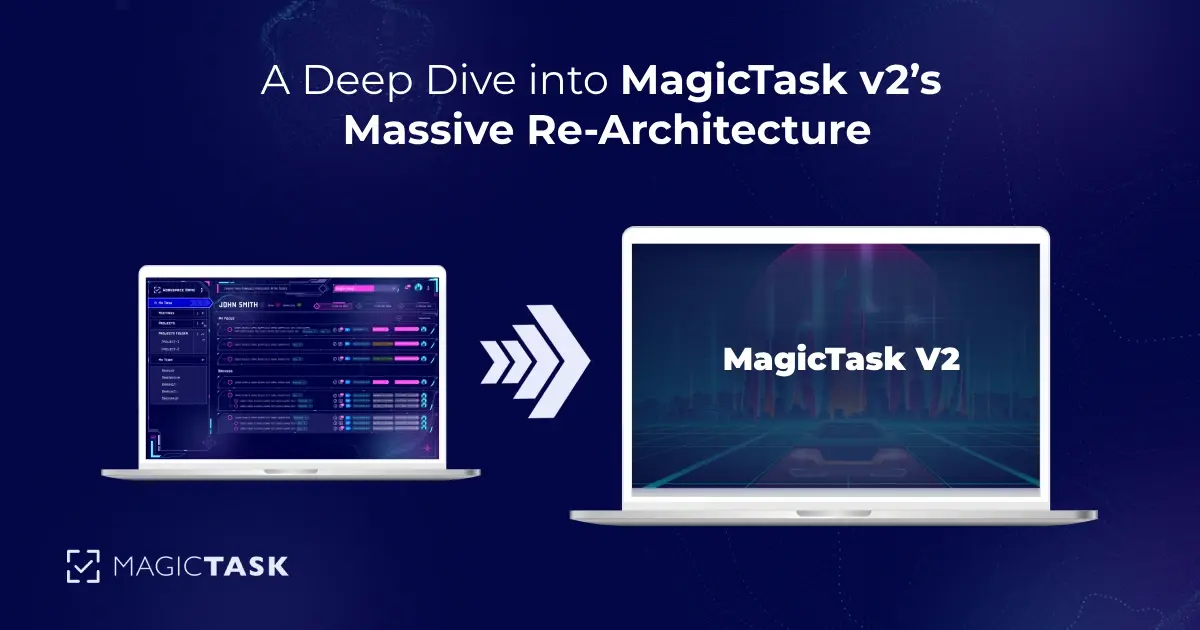 A Deep Dive into MagicTask v2's Massive Re-Architecture
Greetings MagicTaskers and devotees of efficient productivity!
We hope this message finds
Read More

→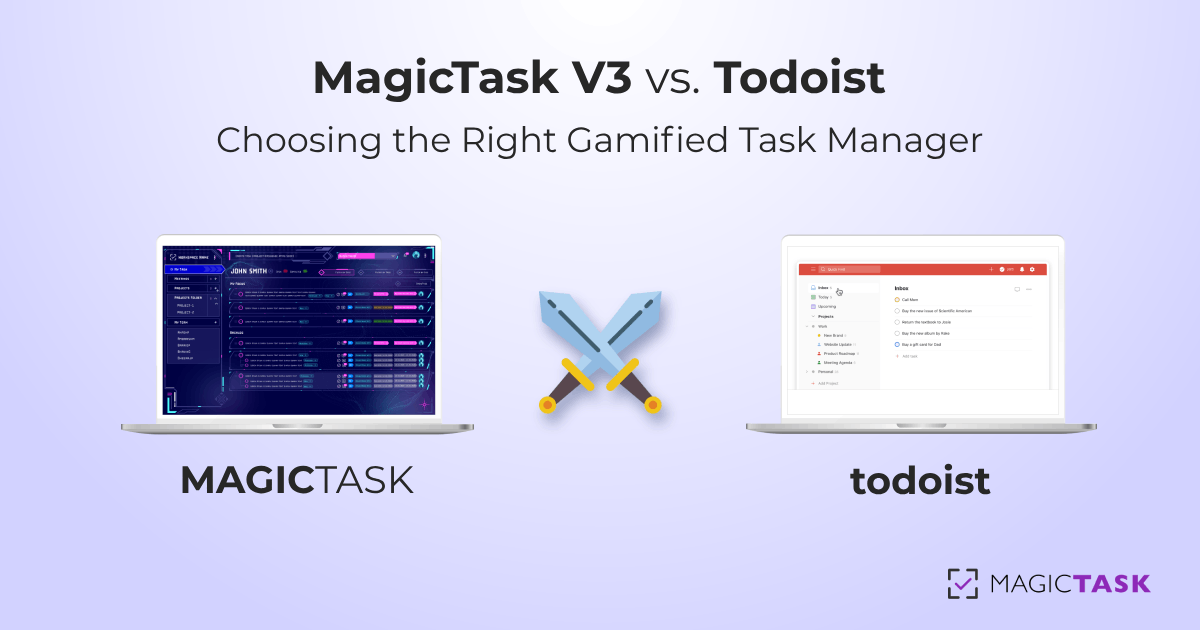 MagicTask V3 vs. Todoist: Choosing the Right Gamified Task Manager
Greetings, fellow gamers and productivity warriors! Today, we're diving into a battlefield that c
Read More

→