How to Use Task Management Tools to Track Your Goals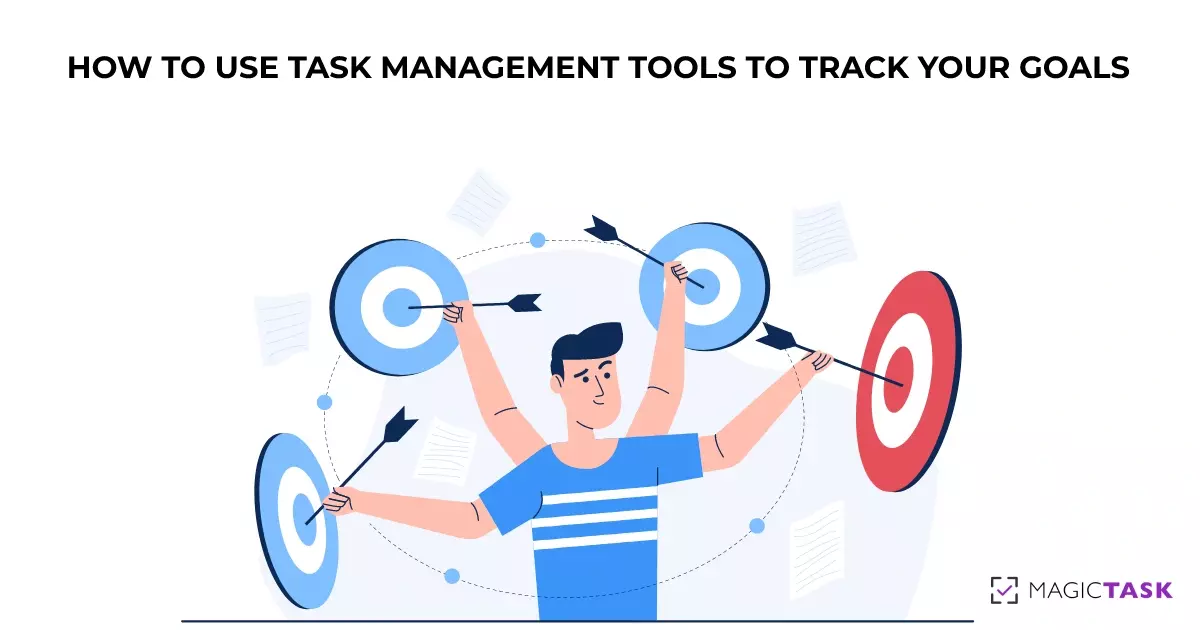 A task management tool is one of the best ways to improve your product. Task management tools offer an efficient and streamlined way to organize your tasks and ensure you finish them on time. It helps users focus on their task and offer a bird's eye view of their projects and deadlines.
But being productive is much more than investing in a project management solution.
Being productive is about achieving your goals in the most efficient manner. Not every tool or technique will work for all of us, no matter how popular. You need to test them and track your goals to see if a particular method works for you. Here are a few ways to track your goals using a task management tool.
7 Ways to Use Task Management Tools to Track Your Goals
Tracking goals is not just making sure that you complete tasks before deadlines and tracking the time you take to achieve them. It's about setting goals and making sure the work you do daily is bringing you closer to them. It begins with figuring out your goals.
1. Set SMART goals
Often when you ask people what their goals are, they say, "I wanna make more money" or 'I want to get a promotion at my job. The problem with these goals is that they are easy to achieve but also, at the same time, impossible to achieve. In short, these goals are not well defined.
To achieve your dreams, you need to define them, and you need to build clear goals. And based on these goals, you need to define metrics that show how close you're to achieving these goals. This is where the idea of SMART goals comes.
SMART stands for Specific, Measurable, Achievable, Relevant, and Time-bound. When you define a goal, you need to be specific about what you're achieving instead of vague statements of where you want to be. For example, instead of saying you want to make more money, mention how much you want to make. Define your net worth or your monthly income goals. You should be able to tell if you've achieved it.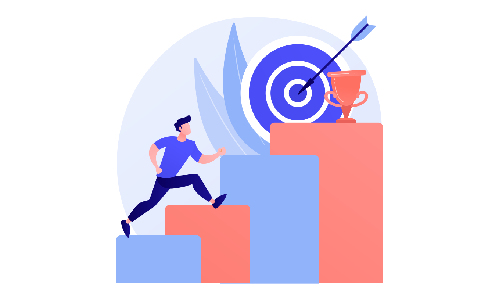 Another aspect is that you should be able to measure your progress. If you're saying, "I want to be rich," you can claim to have achieved your goal any day. But if you mean that you want a network of one million dollars, you can measure where you are, where you want to be, and the gap between the two.
The third aspect is that it has to be achievable. This is a bit more tricky to measure. Imagine you're working as a computer programmer and have no experience playing soccer. If you set your goal to become a national player, you're setting yourself up for failure.
The fourth part is that it should be relevant. This is also a bit tricky, but the general idea is that your goals should be relevant to you. It should make sense for your life. If you're planning to start a family, it may not make sense for you to find a new job abroad in the next three months.
The last part of this is that your goals should be time-bound. There's no point in having goals you may achieve at some point in life. You need to define when you achieve your goals.
Instead of saying you want to own a home, say you want to own a home within two years. And define what kind of house you want, the size, the cost, the location, and other details.
2. Sort and arrange your tasks into projects
Most of the tasks are usually a part of a big project. The tasks are typically connected and may even be dependent on each other. So it won't make much sense to use a single task among these as a goal.
But by adding all related tasks under a project, you can have a better picture of your tasks. Imagine you're renovating your house. For this project, you can add tasks like sourcing the materials, allocating the budgets, find vendors under a single project.
You can also order them according to priority and link interdependent tasks. Once a task is completed or moved to the next stage, you can mark them in the task management tool. With this approach, you'll get clarity on the individual tasks and the status of the entire project. You can find the pending tasks and figure out what is holding you back. It will also allow you to plan the following actions and even delegate them to others if necessary.
In this situation, you can set goals and metrics for the entire project and then work on the same for the individual tasks.
3. Prioritize your tasks based on your long-term goals
Goals are not achieved in a single step; they're the cumulative results of projects and tasks performed daily. So to achieve your goals, you must align these tasks with these long-term goals.
For example, if you're planning to own a home, you'll have to save up for a long time (generally). To build up these savings, you'll need to create a source of income, research, and make sound investments every day. These small tasks add up over time to help you make enough savings to help afford a home.
So you must ensure that your tasks are connected with your goals. And you should prioritize these tasks based on which goals are important to you.
Picture that you want to get a promotion at your organization in two months and build a house in 3 years. You need to set tasks for both of these goals. When you decide what to do every day or week, you need to look at where you are with your goals. Based on this, you need to pick your tasks.
Some experts recommend that you make sure that you do at least two tasks a day that directly or indirectly generates an income for you. Similarly, you can set tasks for other goals as well.
4. Define your tasks well
It's not enough to define just the goals alone, but also the tasks. When you're adding different tasks in the task management tool, you should also ensure that you add all the relevant details.
The task should have detailed descriptions of what the deliverables or the output will look like. Without this, you may keep extending the scope of the task, and it will never be finished. It would be best if you had a clear idea of when a task is completed.
It should also have details like the due, the references, and resources for completing the task, as well as the following action to complete the job. Without a due date, you may keep rescheduling the tasks indefinitely.
You should also set clear metrics for each task. You should be able to tell what percent of a task is done.
If there's ambiguity in the definition of tasks, you may not be able to gauge how far along you're to reaching your goals. If the different stages are not defined, you won't be able to tell how many tasks are close to completion and how many are delayed.
5. Divide your tasks into small increments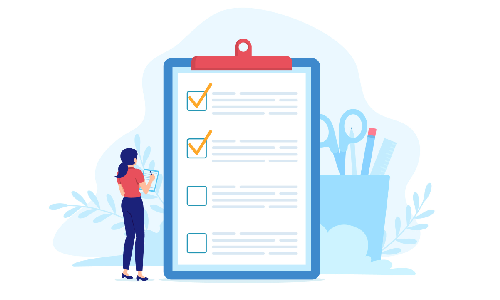 When you create a single enormous task, it won't be easy to figure out what percent of the task is completed. For example, imagine you've set one of your tasks as migrating your organization's legacy infrastructure to the cloud. With this single large task, you can't tell how much of your work is done and how much you're left with.
This also makes it difficult for you to prioritize tasks. An enormous task may be 90% done, but since you don't know how much more work is left, you may keep prioritizing it even when other tasks are more urgent.
Keeping a large task as is also makes it difficult to delegate tasks. You may find that while other tasks have received updates, there are no changes on this one task, even after a long while.
In an ideal scenario, it's best to create tasks that take almost similar amounts of time and resources. But this may not often be very practical since all tasks are unique and depend on who handles them. In these situations, for enormous tasks, you can create an entire project and fill them with smaller tasks. For smaller tasks, you can add subtasks.
This makes it easier to approach large tasks and track their progress.
6. Check your progress regularly
To keep track of your goals, you should check your progress regularly on the task management tool you're using. To make the best use of the tool, you should be able to tell the status of your tasks from a glance at your task boards. You should be able to tell which ones are delayed, which ones you've delegated to someone else, and which tasks you need to focus on.
The task management tool should work for you; it should help you make fewer decisions and take up less cognitive space. You should use this as an extension of your brain or external storage. Once you've put your tasks on it, you shouldn't have to worry about them.
For this, you should regularly update the tasks on your task management tool. Whenever there's a change to a task, update it on your task management solution. Maybe there's new information, and you've assigned it to someone else, either way, make sure it's up on the system. If you're working with a team, ensure they regularly update the assigned tasks. It would help if you didn't have to follow up on them manually.
This approach let ensures that when you're looking at the progress, you're looking at the real and latest status of your tasks.
7. Use a gamified task management system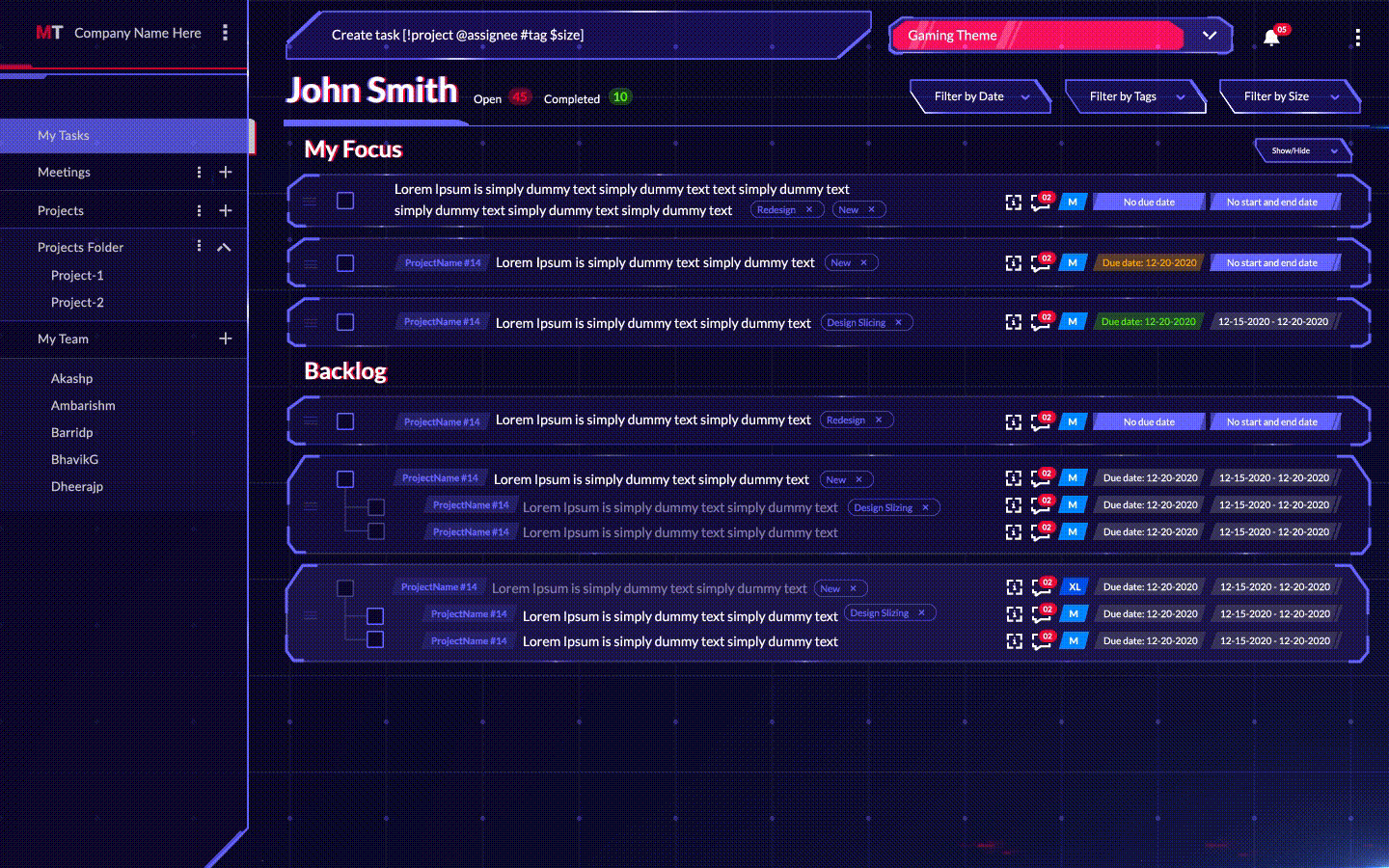 A gamified approach motivates you and your team to complete your tasks on time. With MagicTask, you can compete with your teammates or even with a global leaderboard on the tasks you've completed.
Leaders and project managers often implement gamification into their teams. But this may often take up more resources and time to set up and manage. With built-in gamification, you can motivate yourself and your team. And you can get more tasks done with fewer resources.
Task management tools are powerful - just let them work for you.
Task management tools are powerful assets for you to be more productive and efficient. They ensure that you do quality work within the deadlines. They're more than a to-do list; these tools help you collaborate better, manage multiple projects, and give you a bird's eye view of your existing tasks. But you have to let them work for you. You have to actively use them to benefit from them.
If you're looking for a powerful, gamified, and collaborative task management system, check out MagicTask. It has a seamless and user-friendly interface, comes with fun themes, and helps you easily track your goals. Check it out now; it's free to use.
Similar Blogs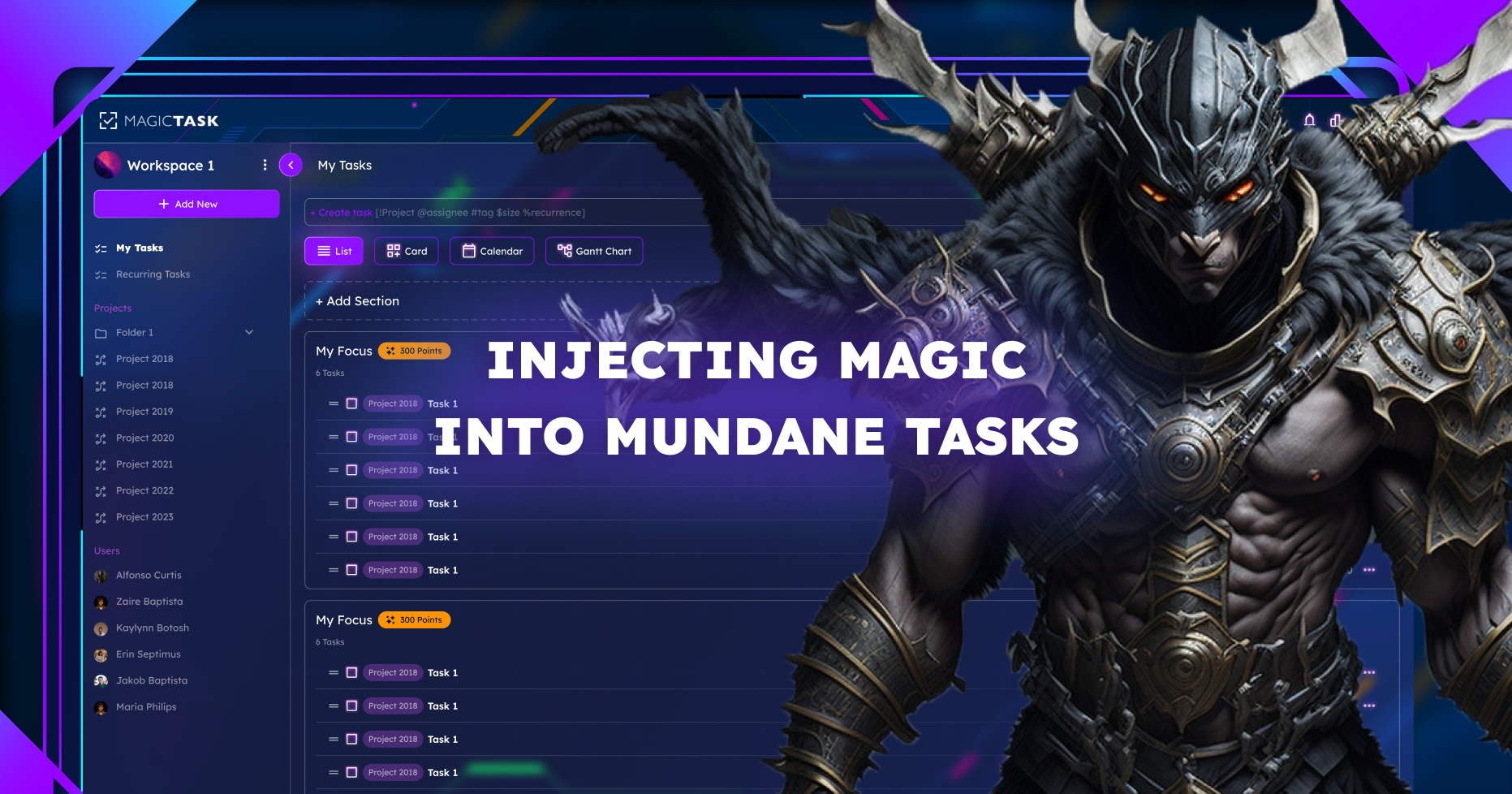 Injecting Magic into Mundane Tasks: A Sneak Peek at MagicTask V3's Concept Art!
Concept art has always been a window into the imaginative realms of creators, laying the foundati
Read More

→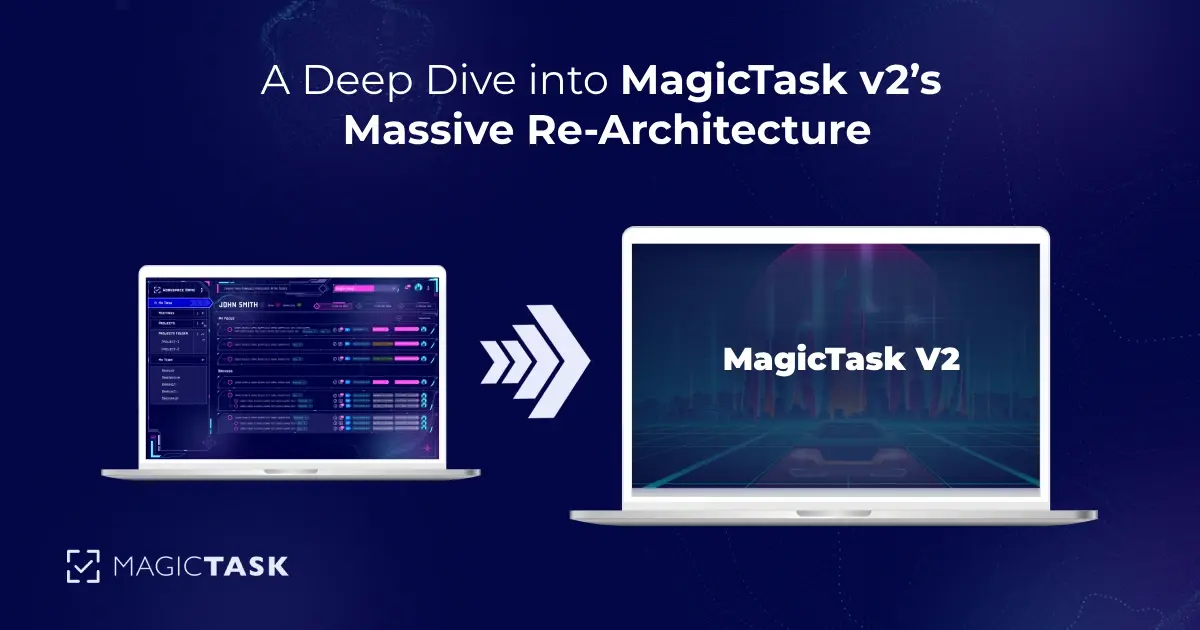 A Deep Dive into MagicTask v2's Massive Re-Architecture
Greetings MagicTaskers and devotees of efficient productivity!
We hope this message finds
Read More

→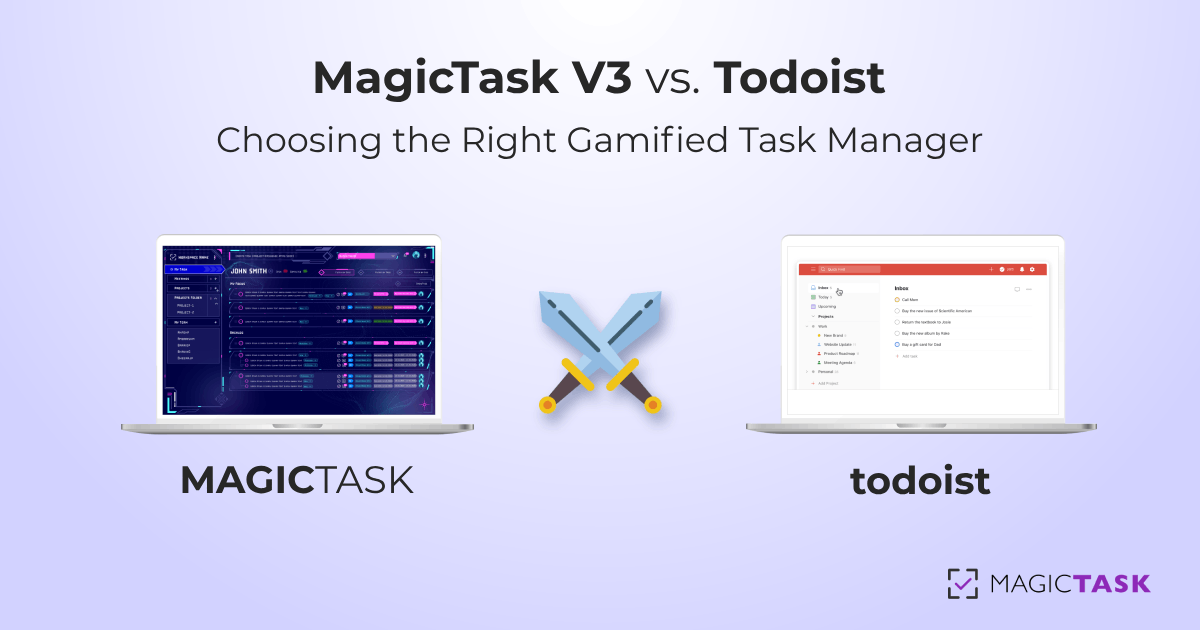 MagicTask V3 vs. Todoist: Choosing the Right Gamified Task Manager
Greetings, fellow gamers and productivity warriors! Today, we're diving into a battlefield that c
Read More

→