How to Use MagicTask to Organize Work and Life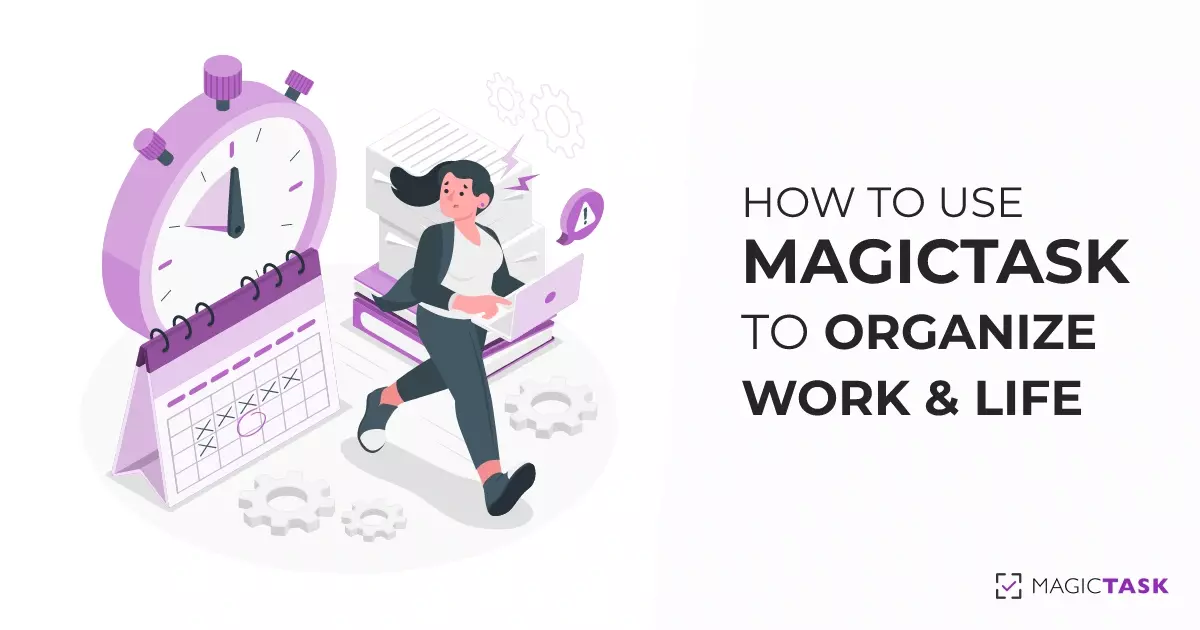 Task management is not easy. The years of effort organizations across the world have put into developing efficient strategies is proof of this.
We've all been in situations when we sat in front of our PCs and didn't know where to start. And then we look at the list of things we need to do, and our immediate reaction is to just panic.
But these efforts have been fruitful, and we now have a pretty good understanding of how we can complete them and deliver on time.
Companies have also come up with many technological solutions that help individuals handle their tasks on time - both at work and at home. And Magic Task is one of those solutions that do this well. It helps teams and individuals complete their tasks effectively and collaborate with their team members on different projects.
Let's have a look at how you can use MagicTask to be more efficient and organized.
7 Easy Ways to Keep Work and Life Organized With MagicTask!
1. Set Up Recurring Tasks
If you have a lot of recurring tasks, it's not a good idea to rely on your memory to complete those. Too many tasks increase your cognitive load and affect the quality of your work. When there are too many things around you, it's easy to forget any of them.
It's not easy to keep track of recurring tasks like monthly reviews, paying your bills, and daily workout schedules without any tools. The trouble with recurring tasks is that not all tasks happen at the same intervals of time. And setting individual reminders every time you need to do them can get tiring pretty quickly.
MagicTask simplifies this. Rather than recreating tasks each time after it finishes, you can just set up recurring tasks, and it will send you regular reminders about them. This feature will help you keep your mind at ease and ensure that you complete your responsibilities on time.
2. Use 'My Focus' and 'Backlog' Tasks to Organize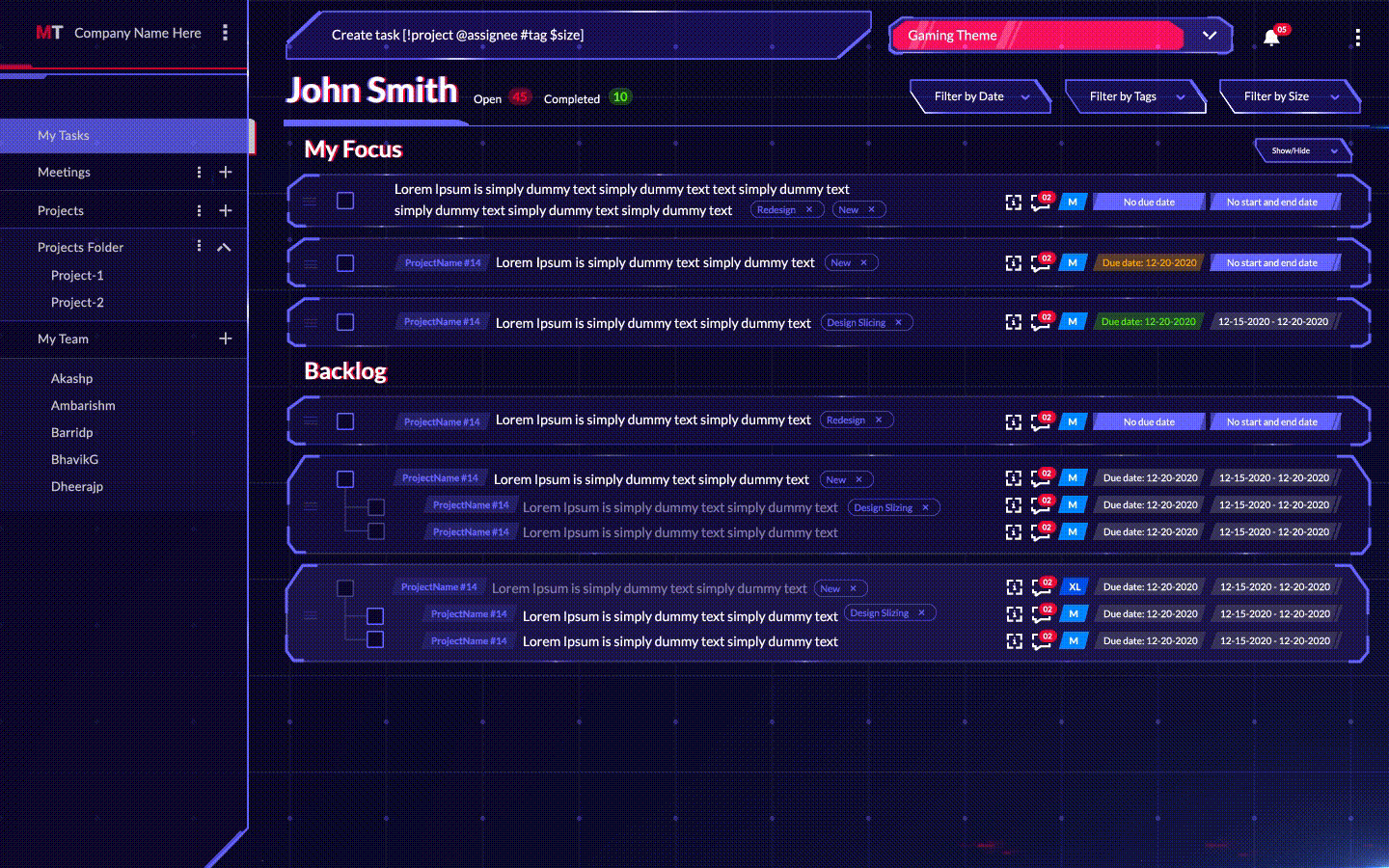 When you have a lot of tasks to complete, and you're keeping them all in your head, odds are they look like bits of paper just floating around with notes on them. To make sure you do them all on time, you need to straighten them out and make sense of it.
When you're working on a complex project or just doing your day-to-day tasks, you can simplify the whole thing by breaking them down into smaller tasks and prioritizing them. You can arrange them from various smaller tasks to complete bigger tasks or based on their importance.
And with MagicTask, you can do this easily. You can assign importance or priorities to tasks, and when completed, you can check them off. You can drag the tasks that need your immediate focus to the My focus section. It will help you and your team identify the most important task and finish them quickly.
For example, if you have 8 tasks and you need to complete three of them today, just them to the My Focus section. This lets you and your team understand the priorities easily and reduces miscommunication.
MagicTasks also have a backlog section which acts more or less like a to-do list. Here you can add the tasks which don't require your immediate attention and can be done as and when you're free.
For example, you may have to reply to your emails, water your plants, or do the laundry. Backlog helps you keep track of these small tasks that don't have a defined deadline.
3. Assign Tasks to Family Members or Team Members
This is a useful feature when you need your family or team members to do some tasks for you. It's as simple as creating a task and clicking your team member's name next to it.
MagicTask offers a streamlined method to deliver all the information related to the task with this feature. When you assign a task, they'll get a notification, and they can visit the board to get all the information they want, such as deadlines, deliverables, and others. If they have any questions or need additional information, they can just leave a comment.
This is a great way to communicate each member's role and responsibilities. Whether it is your family or a work team, everyone knows what they're supposed to do, which reduces unnecessary back and forth. It won't be easy to communicate task-related information if you're working remotely or are in different time zones. MagicTask makes this easy, reduces the risk of miscommunication among team members, and prevents delays.
Also Read: Why is Delegating Tasks Important and How to Do It Effectively?
4. Create Projects/Workspaces for Different Uses
MagicTask is a lot more than a to-do list. It helps you organize your tasks based on priority, deadlines, and status, and helps you collaborate easily with others. And one way of doing this is to organize your tasks into different projects or workspaces.
Workspaces act more or less like different workplaces. For example, if you're working with two different teams, you can create two different workspaces and make sure all the tasks remain separate. You can then invite your team members to their respective workspaces and assign them the tasks. This makes sure that everyone gets a complete picture of their project, even if they're not working on all the tasks. Workspaces also let other team members assign tasks to each other.
Projects, as the name suggests, are used to bring all the tasks for a project under a single umbrella. They act pretty much like whiteboards at your office. You can create different projects when your team is working on multiple projects and sort your tasks accordingly. This helps teams understand how their task connect to the projects and makes it easy to collaborate.
Even if you are not working together, it's still helpful to differentiate tasks between your work and your personal life. It will help you keep track of the tasks and stay focused when completing them.
5. Create Subtasks for the Main Tasks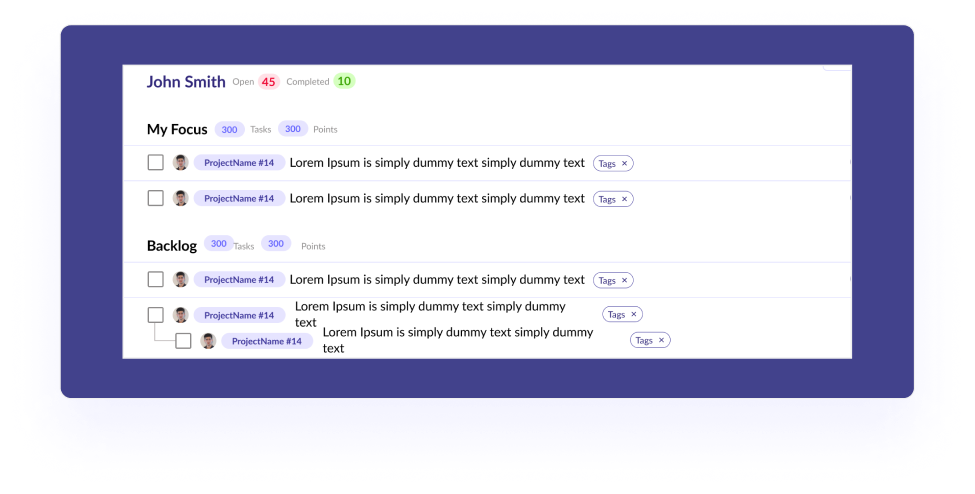 Sometimes you may have to divide a single task into multiple smaller tasks. For example, if you need to publish an article, you'll need to write the content, design the graphics, and optimize it for SEO. Or if you need to cook dinner, you may have to assign different family members to buy groceries and chop the vegetables before you're free to start cooking.
Here you can create one large task and create smaller subtasks on your MagicTask workspace. This makes it easy to understand what all have to be performed before a task can be completed. And it makes the work more transparent.
The process can also easily improve productivity. When faced with a large task, your team members may find it difficult to get started. But by divvying them up into smaller tasks, it will be much easier to face them and check them off.
6. Themes and Gamification
MagicTask is a platform developed by gamers for gamers. Its unique gamified approach makes it fun and engaging to use. But these features are not limited to just gamers. Anyone looking to organize and manage their life or work will find these useful.
To use different themes, you can just head to the themes tab and make a purchase. You'll notice that all the themes you have purchased are available there. And you can easily switch between these themes to set your productivity in the right channel.
All of these themes have unique interfaces, animations, and even sound effects to make them more engaging, exciting, and personal. As you use MagicTask more often, you get points with which you can level up the themes in your collection. Every time you level up, you can access more animations and sounds. The inbuilt gamification within the platform makes work and task management more exciting.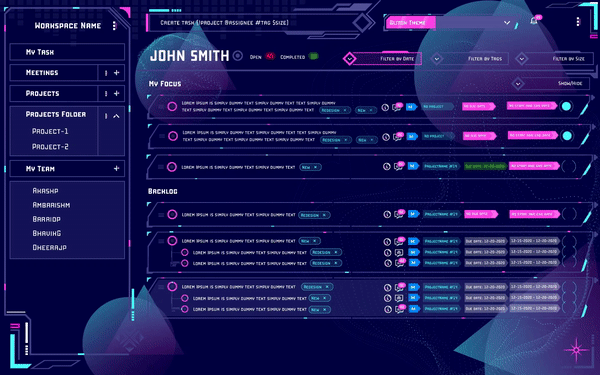 Besides leveling up with use, MagicTask also lets you compete with your team in your workspace. It lets you collect points and see where you rank among your colleagues, adding friendly competition to your workplace.
These themes and games make otherwise boring task management more fun and enjoyable for the team and reduce stress for them. Many organizations often invest significantly to bring gamification into their workplace. With MagicTask, businesses don't have to look for third-party solutions.
7. Reminders and Notifications to Improve Task Management
Managing a project or a workplace is not just assigning tasks and waiting for the deliverables. It's about following up regularly, making sure your teammates are on track and that they have all the information they need. And for this, you need to be on top of every activity in your workspace. This is where reminders and notification becomes useful.
When your team member needs more information, or if they mark a task as completed, you need to take the next steps. One must be on the lookout for progress and problems and respond as soon as one can. With this upcoming feature, the app will send you a notification and an email when a team member comments on your task.
This feature will also update you about task progress and alert your teammates about due dates and comments.
Try Out MagicTask - It's Free, and You'll Love it
MagicTask is completely built from scratch based on years of research and user feedback. The solution makes task management simple and efficient - both for your work and personal life. It helps you organize your tasks into easily manageable sections. And it helps your team collaborate efficiently.
The gamification and themes make your experience more colorful and exciting. It helps make your team more competitive and productive.
And the best part? MagicTask is free to use. Take it for a spin, and take your productivity to another level.
Similar Blogs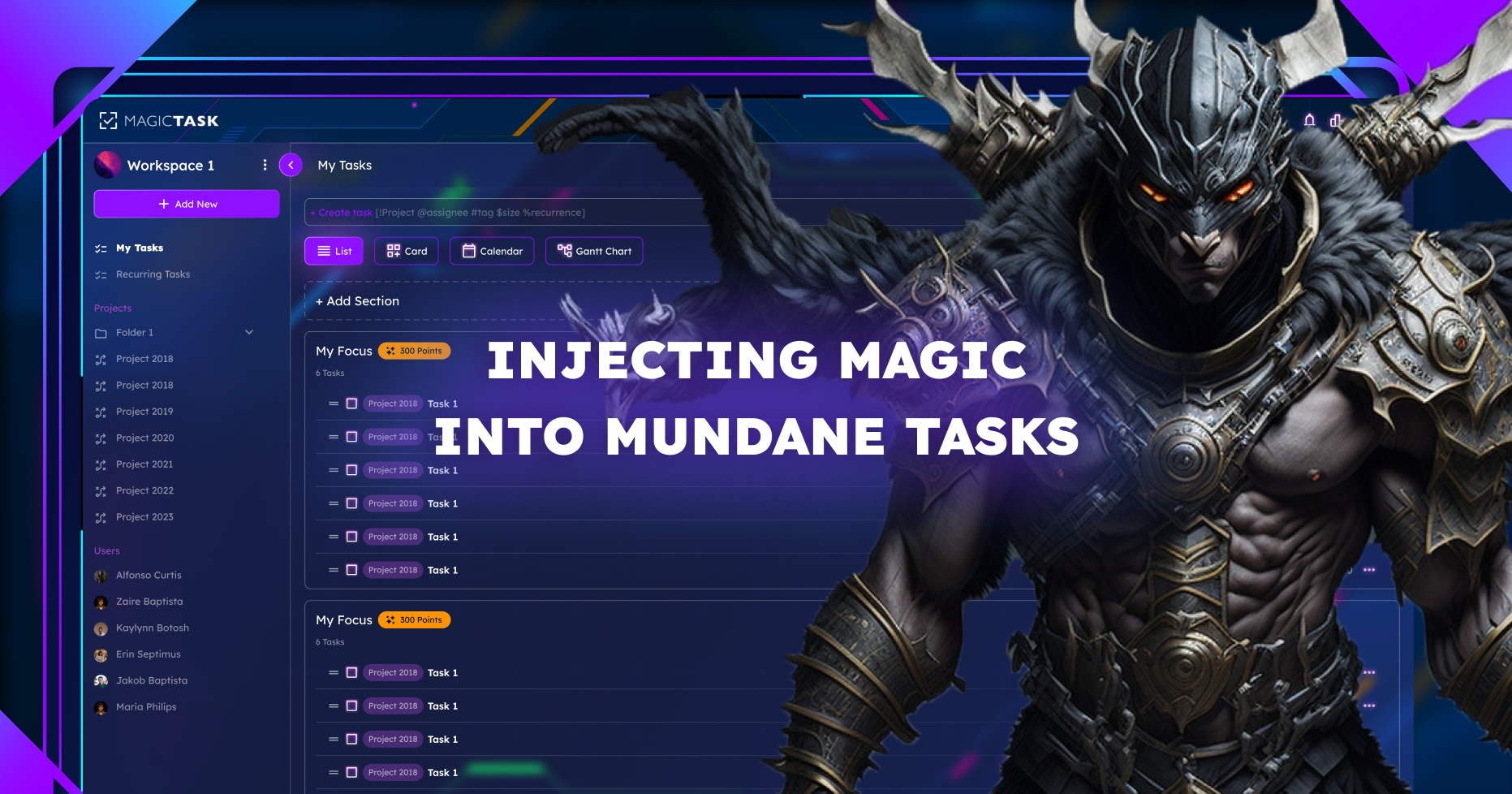 Injecting Magic into Mundane Tasks: A Sneak Peek at MagicTask V3's Concept Art!
Concept art has always been a window into the imaginative realms of creators, laying the foundati
Read More

→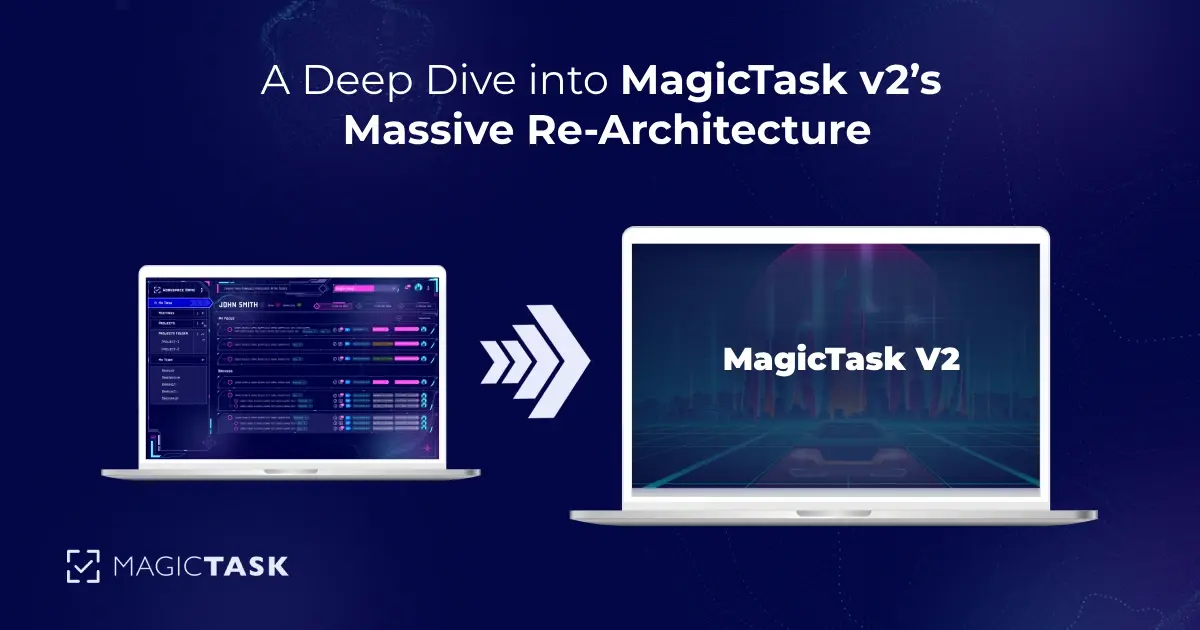 A Deep Dive into MagicTask v2's Massive Re-Architecture
Greetings MagicTaskers and devotees of efficient productivity!
We hope this message finds
Read More

→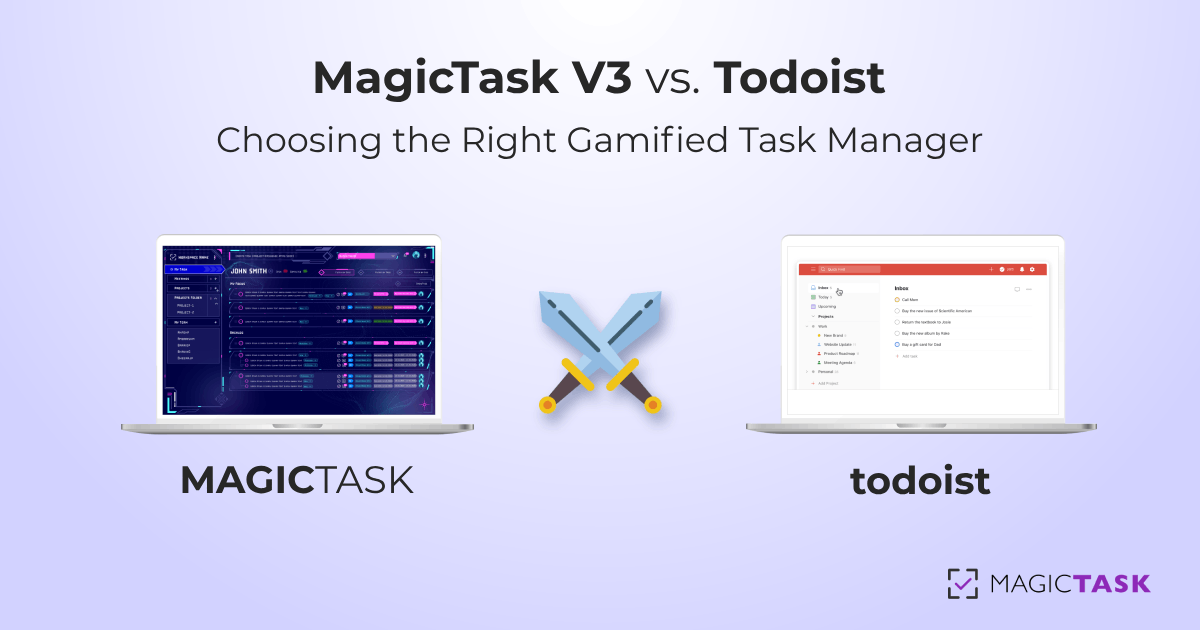 MagicTask V3 vs. Todoist: Choosing the Right Gamified Task Manager
Greetings, fellow gamers and productivity warriors! Today, we're diving into a battlefield that c
Read More

→