How MagicTask Improved Productivity at Imaginovation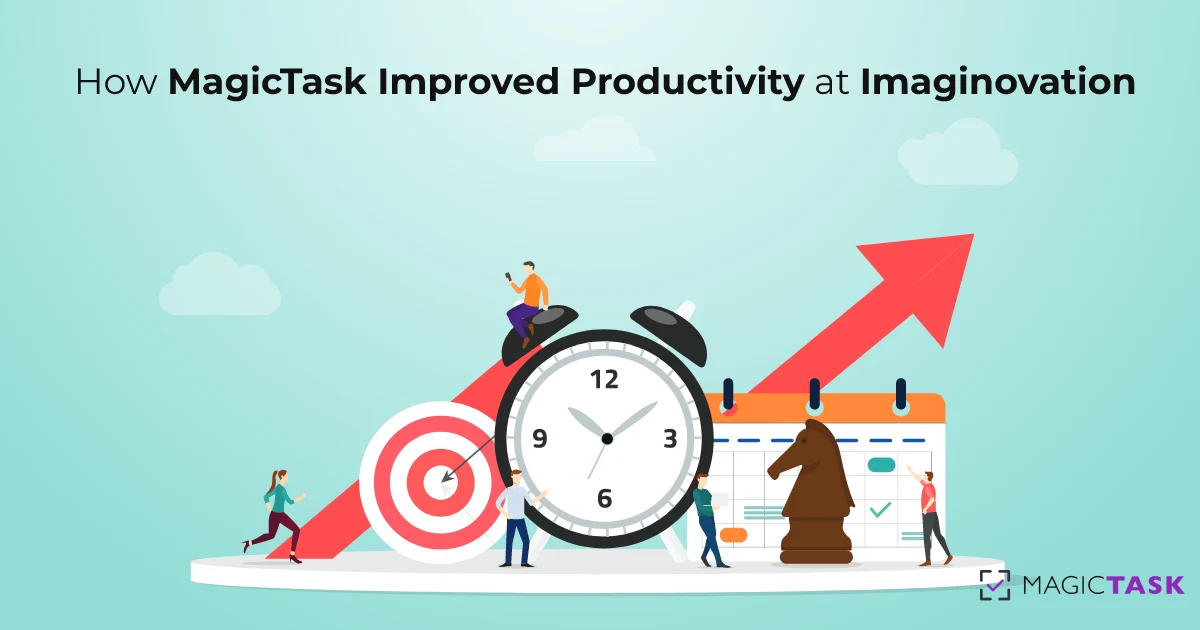 How do I get my team more productive without micromanaging? It is probably one of the most common concerns of managers and executives out there. 
At times, you are left wondering – Why do certain teams seem to effortlessly stay productive while others often struggle to meet their deadlines?
It is quite exasperating to see your projects struggle and lag– especially when you know your team can be more productive. And, who knows this better than us. 
In this blog, we're going to share a true story of how our team at Imaginovation was able to ramp up productivity with a simple tool called MagicTask.
So, let's begin.
How Imaginovation Team Improved Productivity with MagicTask?
Although the Imaginovation team has a proven record of successfully delivering innovative digital products to its clients, the team was internally striving to organize work.
With 20+ employees and a pool of 10+ vendors to manage, organizing the work with project management tools such as JIRA was becoming too complex and time-consuming. 
The team also explored various other project management tools for better management.
Not thoroughly satisfied with any of the tools, Imaginovation started building its own product MagicTask, in mid-2019. The idea was to create a platform that'll remove all the complexity of project management and provide a perfect solution for everyone on the team.
MagicTask is minimalistic without being overly simplistic. And, that's exactly what empowers the team to work smarter and stay productive. 
So, how did MagicTask help the Imaginovation team stay on top of work? Here's how.
1. Complete visibility across the teams with MagicTask
When project managers have a clear picture of what's currently happening in a project, they can manage the team and tasks more efficiently. 
Using MagicTask, different teams were able to collaborate effectively while keeping track of the progress of individual projects. 
The team uses searching and filtering features to check if the task or team member is behind schedule and needs assistance. This gives a bird's eye view of task progression across the organization – who's doing what? Who has too much going on for them? 
Admins can have complete visibility over the entire team, all at once, to find time-slots when team members are free for tasks. Isn't that cool?
MagicTask has helped the team leads and project managers improve team efficiency with a better idea of how to delegate without overloading and overmanaging. 
When relevant information is made available efficiently, it enhances transparency and trust across the company.
2. Never Losing Track
Before using MagicTask, teams at Imaginovation tried their hands at many different traditional project management systems. But the projects would fall through the cracks simply because the systems were too complicated and too saturated.
MagicTask helps all the Imaginovation team members track project processes in real-time to see if they are on schedule or falling behind schedule. Each member can add their own tasks, and track them from beginning to end, set deadlines, and delegate to other team members.
MagicTask makes it super simple to add in tasks and check them off, which encourages users to utilize the tool more often for even small and simple tasks. 
When it comes to working, nothing can beat the feeling that you get when tasks in your to-do lists are done and behind you, it's actually fulfilling mentally. The team members feel rewarded when they check off a task and it disappears from the list.
MagicTask has given more control to each team member so they never lose track. The team is happy to have a single platform for end-to-end task management where they can discuss and collaborate on projects allowing them to achieve their weekly goals more effectively and in a streamlined approach.
Michael Georgiou, Co-Founder – of Imaginovation, says, "Owning a business is a full-time job. With more than 40 work hours a week, we are constantly thinking about business. Sometimes new ideas come my way, even outside of business hours. MagicTask solves the problem of accessing the solution whenever and wherever by allowing me to input things through my phone quickly". 
3. Clears Your Mind for Maximum Efficiency 
Have you noticed how easily one gets overwhelmed when they are assigned an enormous project or tons of tasks, all at once? Yea, it can get kind of crazy and stressful, which also can be counter-productive.
Having pending items looming in the back of our minds causes a lot of stress. With too much to handle, we may forget things or do them out of order without prioritizing them.
So, what's the solution?
The solution is to get it out of your head and put it into an organized system with a top-down approach. This is precisely what teams at Imaginovation did. 
Studies have shown that an organized system of task management is crucial. 
Understanding that 90 percent of work is really trying to remember everything you have to do, especially when you have 5-6 different projects and tasks related to your personal life. The use of MagicTask brings in efficiency, organization, prioritization, and fulfillment all while decluttering your mental space.
With MagicTask, team members at Imaginovation have stopped being obsessed with work tasks. They no longer worry that they will forget something. All they do is use the system consistently. 
4. A User-Driven System that works well 
While other project management systems force you to work in the way they are designed, MagicTask is unique. It is highly customizable and is designed to be user-driven.
One can literally make the system work the way one wants it to. Team members at Imaginovation use this tool to track their personal tasks as well.
"MagicTask forced us to conform to a systematic and enjoyable approach. It impacted our productivity because we didn't have a system. This allowed us to "rule the tool" and use it in ways that helped us.
You can use this tool to improve your workflow and work smarter. You can set up and organize your own space, in a way you want, rather than trying to mold it into how the tool has designed it. 
Imagine having a system that's robust, easy, simple, and has all those essential features you often use, but without the clutter  – That's basically MagicTask.
Check out this link to sign-up for MagicTask now: https://app.magictask.io/sign-up We have weekly meetings where everyone plans what they will do, and assign tasks in the order of priority, and assign new tasks. MagicTask took care of all that and helped us improve our own productivity. MagicTask cuts away all the unnecessary clutter. It is truly agile in its simplest form", says the team. 
Work Smarter with MagicTask
Choosing the right task management solution is key to achieving higher productivity. MagicTask is one such solution that works well for any team and project size.