7 Best Taskade Alternatives for Task Management in 2022 [Free & Paid]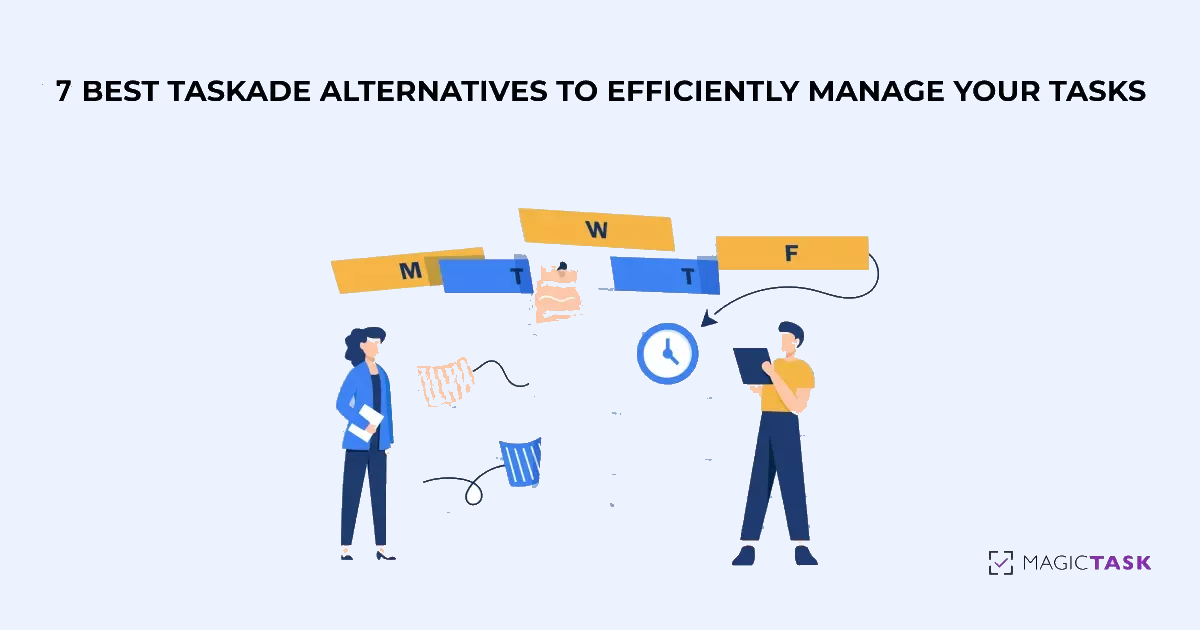 Over the last few decades, professionals have become more concerned with productivity. Businesses all over the world are investing more in tools that help their employees do more. This has motivated developers to make new task and project management tools that do more than make lists and set reminders.
Modern task management tools offer better collaboration features and make tasks more exciting. They aim to help users complete their assignments on time and manage their energy.
Taskade is among the latest set of productivity and task management tools that have recently garnered much interest. This article explores Taskade and its main features. We also list the top seven alternatives to Taskade if it doesn't work for you.
What is Taskade?
Taskade is a project management and digital workspace tool for teams and individuals. It was launched in 2017 and is part of the S19 batch in Ycombinator. The platform is designed for remote teams to collaborate efficiently.
The platform comes with a suite of task management tools. With it, users can create tasks, set reminders, due dates, collaborate with teammates, and more. Taskade also lets users chat with each other, get on video calls, and share their screens.
Taskade has different project and task views; you can view them as lists, boards, calendars, and more. The solution also offers different templates for users to customize Taskade for their needs.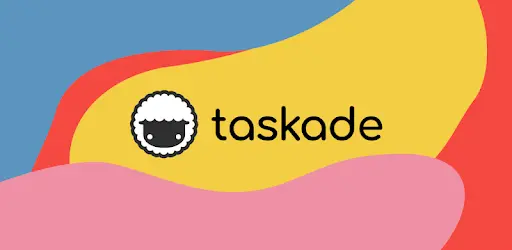 The platform is available on Android, iOS, Chrome, and as a desktop app. The app is available in more than 15 languages and offers single sign-on with Google, Facebook, and Twitter.
One of the best aspects of Taskade is that almost all the features are free. This includes adding guests to your workspace and unlimited team members. You also get data encryption and regular backups with just the free plan.
But if you want unlimited storage, company branding, priority support, and training, Taskade will cost you $5 per month per person.
Why Do You Need a Taskade Alternative?
Taskade offers a fantastic set of tools for teams and individuals to tackle their tasks. It provides a good combination of features with which users can collaborate well and deliver their projects on time. But Taskade is relatively new. Many users have complained about teething issues with the app and its features. While it does look like the team is looking into these issues, you may not want it to hold back your productivity or projects.
For instance, many users have complained that the apps are sometimes slow or lag a lot. In a review, one user said that the app gets slower as you add more documents to tasks. They also pointed out that the app sometimes glitches when you add new tasks or documents.
In another case, a user mentioned that the app is too flexible for collaboration — 'it's almost too easy to ruin someone else's work' — they said. This may not necessarily be a problem for all users. In fact, Taskade offers different permissions that admins can customize for their team members.
Another significant issue is that Taskade has very limited integrations with other apps. Users can integrate Loom, InVision, Figma, and SoundCloud. But if you need more integrations, you're out of luck. Many users have complained about the lack of Zapier integrations.
Taskade also doesn't support typical project management methodologies like Ghant charts or the waterfall method as of now. If your team relies on these methodologies, you may find Taskade limited. Taskade does keep rolling out new features, and they have promised Ghant charts soon, but there's no definite date on this.
Another aspect is that most users appear to be using the solution for small projects and relying on other tools for more complex projects. This could vary between users, but this does raise concerns for teams handling large-scale projects.
While Taskade does have a good UI, it doesn't have built-in gamification features. Project managers may rely on other tools to implement gamification in their teams.
7 Best Taskade Alternatives for 2022
Here are the top seven alternatives for Taskade.
1. MagicTask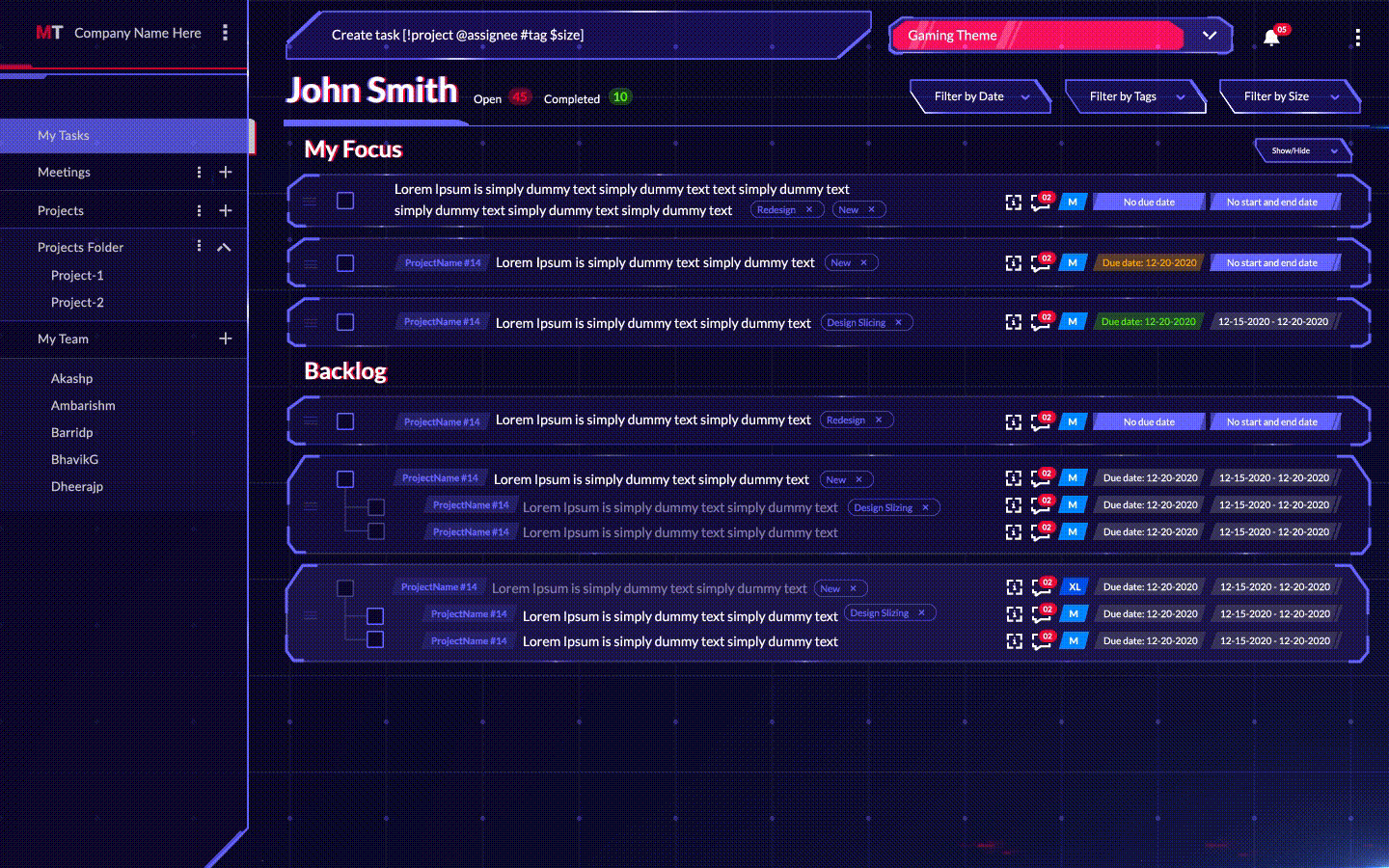 MagicTask is a powerful task management tool for both teams and individuals. The solution is built to work for everyone and anyone and doesn't limit you to one particular way of getting your tasks done. It takes a lot of elements from popular productivity techniques and can work with almost all of them.
It comes with all the features of a project management tool. You can create tasks and assign them to your teammates. Besides the due date, you can also set start and end dates for different tasks on MagicTask. It also lets you set priorities for your tasks.
One of the most interesting aspects of MagicTask is that the platform is highly gamified. Users get points when they complete different tasks with which they can compete with their team members. If they're working alone, they can compete with the entire MagicTask user base worldwide.
The platform also has a separate list of tasks labeled 'My Focus' where users can move their most urgent tasks to the ones they want to focus on.
Pros
The platform is highly gamified
MagicTask doesn't limit you to one way of working
Lots of themes that keep work exciting
Easy to learn and start using
It is free
Cons
Currently, they don't support sign-in using Google or Facebook, so you will have to use your email.
2. Simplish
Simplish is a simple and easy-to-learn task and project management tool available on iOS and Android platforms. The solution is built based on the Getting Things Done method and is designed like a day planner.
The platform promises to help users with their most complicated tasks and projects. Simplish has a drag-and-drop interface and offers real-time collaboration across multiple users. You can even chat with your team through the app. One of the unique features of Simplish is that it provides real-time customer support within the app. The team will help you set up the app and learn how to use it.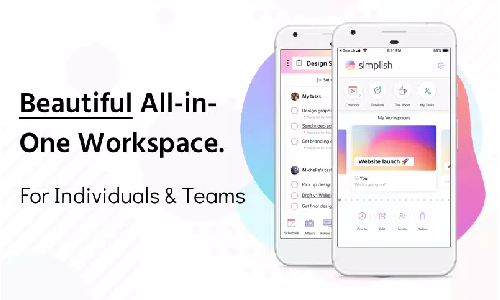 Simplish is designed to motivate users to complete their tasks with designer themes curated with years of research.
Pros
Easy to learn and use
Real-time customer support
Seven-day free trial
Cons
Limited to iOS and Android only
It may be too simple for large and complicated projects.
3. DoSheets
DoSheets is a collaboration platform designed to organize tasks, ideas, and discussions efficiently. The platform lets users create projects, add notes, and make them accessible to the entire team.
The platform realizes that a large part of project management is creating good documentation. It also realizes that teams spend considerable time looking for documents and information to carry out their tasks.
DoSheets also acknowledges the importance of processes to make an organization efficient. It also takes into account that the problem only grows as the organization scales up.
DoSheets help solves this problem by making information readily accessible. It acts as a searchable online whiteboard for remote teams.
Pros
DoSheets make information easily accessible
Easy to keep track of and update documents and ideas
The tool is great for brainstorming ideas.
Cons
The platform often faces temporary but distracting glitches and downtime.
4. Height
Height is a complete project management tool with a comprehensive set of features. The platform claims to be an all-in-one project management tool, and it comes with a range of tools to manage your tasks and activities.
With Height, you can create tasks, assign them to your team members, set due dates, and add descriptions. You can view your tasks in a list view, as a kanban board, as a calendar, a Ghant chart, and even a spreadsheet if you prefer.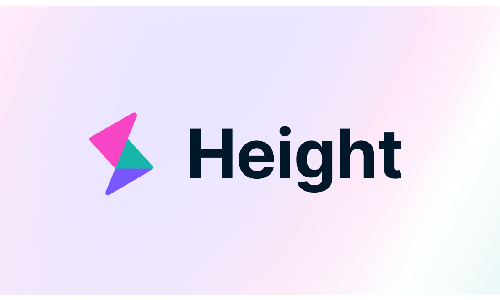 Height also offers a great set of integrations with tools like GitHub, Gitlab, Zendesk, and more. It has a great collection of communication tools. You can chat with your teammates about specific tasks and keep track of them right next to the chats.
Pros
Highly feature packed
It offers a lot of integrations
Cons
The free plan offers limited security features
Only G-suite SSO is available.
5. Planny
Planny is a productivity app that promises not just to help you make notes and to-do lists but to do them. It's one of the few apps that use advanced AI to create intelligent plans and schedules.
Users can create tasks on the fly and get a clear picture of what awaits them the day or the next. Besides time-based reminders, you can also make the app remind you of tasks based on where you are. For instance, the app will remind you to buy groceries when you're near the store.
Planny is wholly integrated with the Apple ecosystem and works with iPhone, iPad, Apple TV, and Apple Watch. The app motivates users to do more with a set of productivity statistics.
Pros
Available on all Apple devices and completely integrated with the ecosystem
Great reviews and recognitions
Cons
Available only for Apple users
Some functionality is limited to premium subscribers.
6. ProcessKit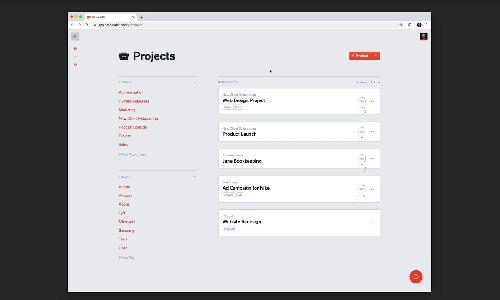 As the name suggests, ProcessKit is designed to help users build repeatable processes. The platform is designed mainly for businesses in the service sector. The application allows users to manage their clients through well-defined processes.
ProcessKit offers users templates for onboarding clients and working with them in the long run. Users are also free to make templates on their own.
ProcessKit also helps you improve your processes with detailed tracking and status updates. The app allows users to change individual procedures and then apply them to the entire clientele. The platform also comes with collaboration features allowing teams to work together seamlessly.
ProcessKit has a suite of automation to help you make decisions faster and reduce your workload.
Pros
It helps you build processes
It lets you automate a lot of tasks
Cons
The platform is designed mainly for agencies and for onboarding processes. Other organizations or processes may find this difficult.
7. 2-Minute Habits
The 2 Minute Habits is an iOS app based on the Getting Things Done productivity technique. It helps users to build habits through two-minute activities.
The idea is that building habits take consistency, but we often look at a large activity and procrastinate on it. The app aims to help users by breaking down large activities into two-minute blocks.
The app has a simple UI. Just pick a category and add your tasks to it. You can later check off the tasks with the help of a two-minute timer.
Pros
Easy to get started with
Simple UI
Small learning curve
Cons
The app is available only on iOS
Bottom Line
The above list is a testament to the fact that there are plenty of task management tools. But most of these tools focus on just one or two work styles and limit the user to it. And they're rarely built on scientific research and mostly rely on fads.
MagicTask is designed for teams to work as they want to. It motivates users to get the most out of their days with the least effort.
Check out MagicTask now — it's free, and you'll love it.
Similar Blogs
From Quests to Collaboration: How MagicTask and Habitica Shape Team Dynamics
In a world where work and play increasingly intertwine, platforms like MagicTask V3 and Habitica
Read More

→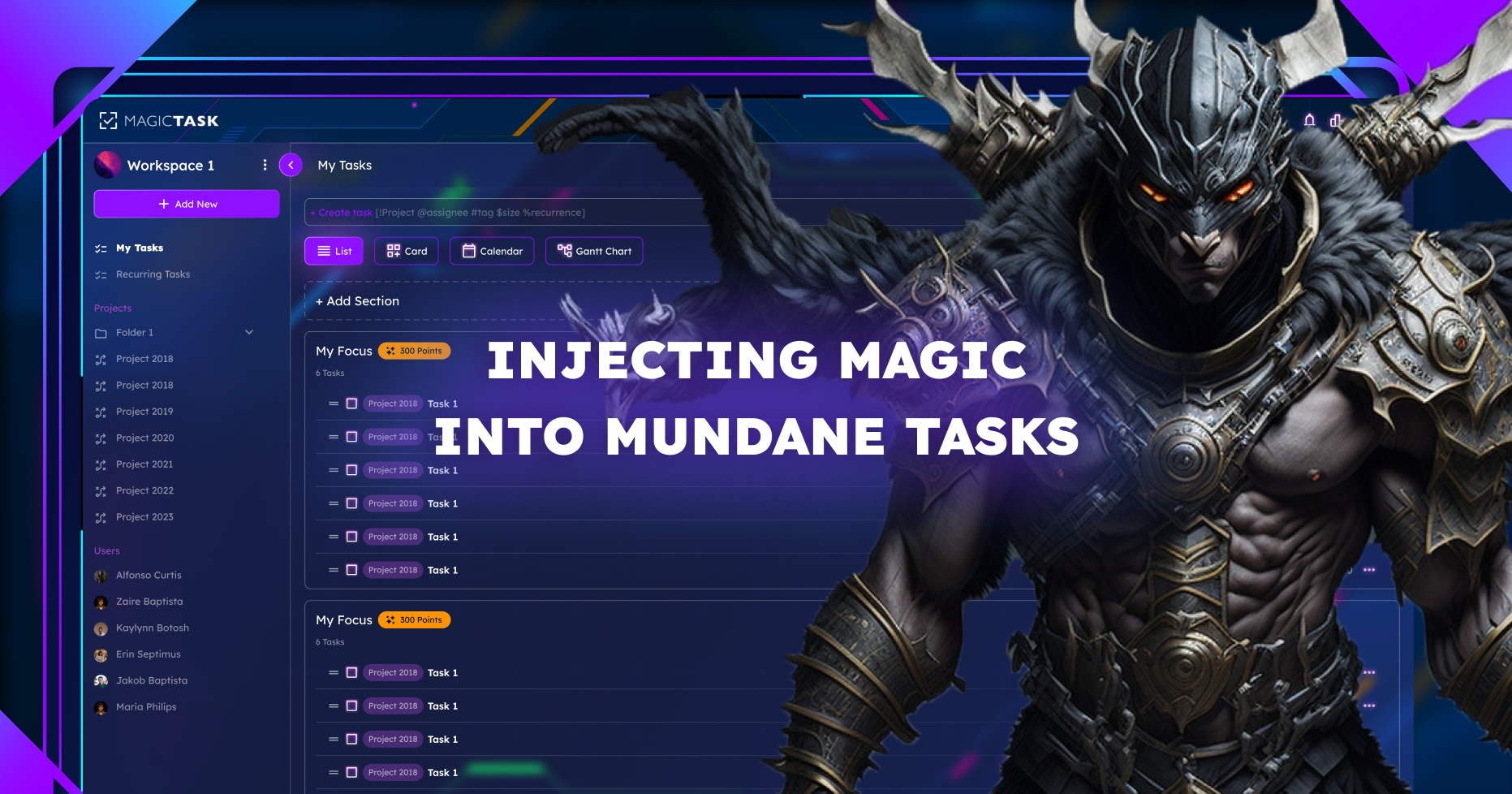 Injecting Magic into Mundane Tasks: A Sneak Peek at MagicTask V3's Concept Art!
Concept art has always been a window into the imaginative realms of creators, laying the foundati
Read More

→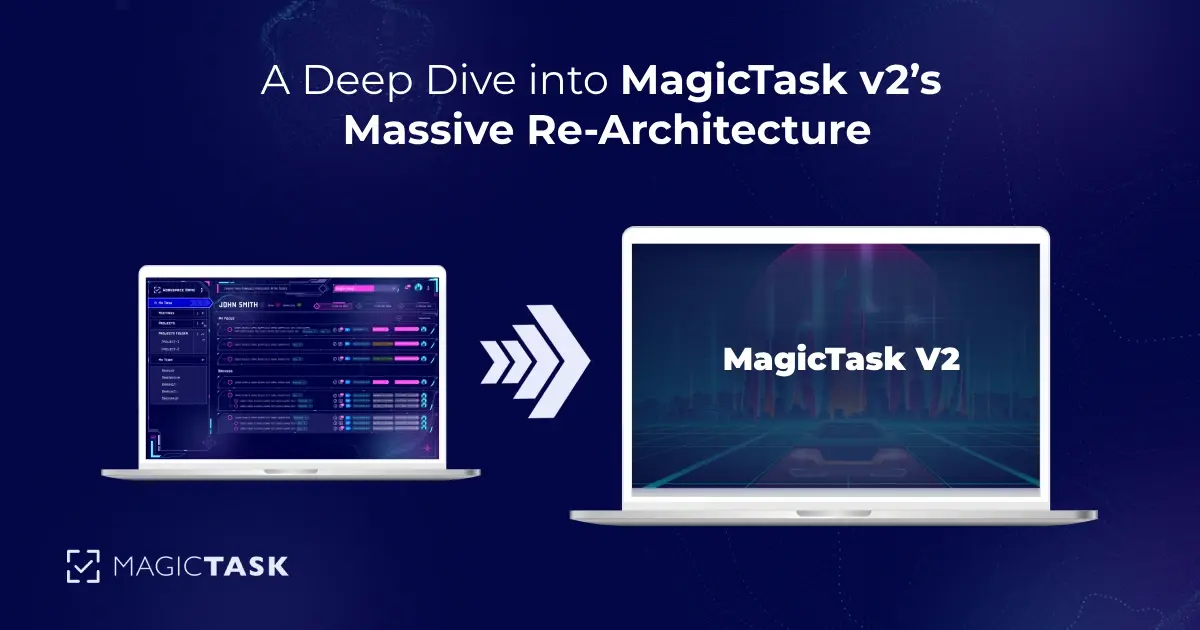 A Deep Dive into MagicTask v2's Massive Re-Architecture
Greetings MagicTaskers and devotees of efficient productivity!
We hope this message finds
Read More

→