Task Management Tools vs Project Management Tools: Which is Best for you?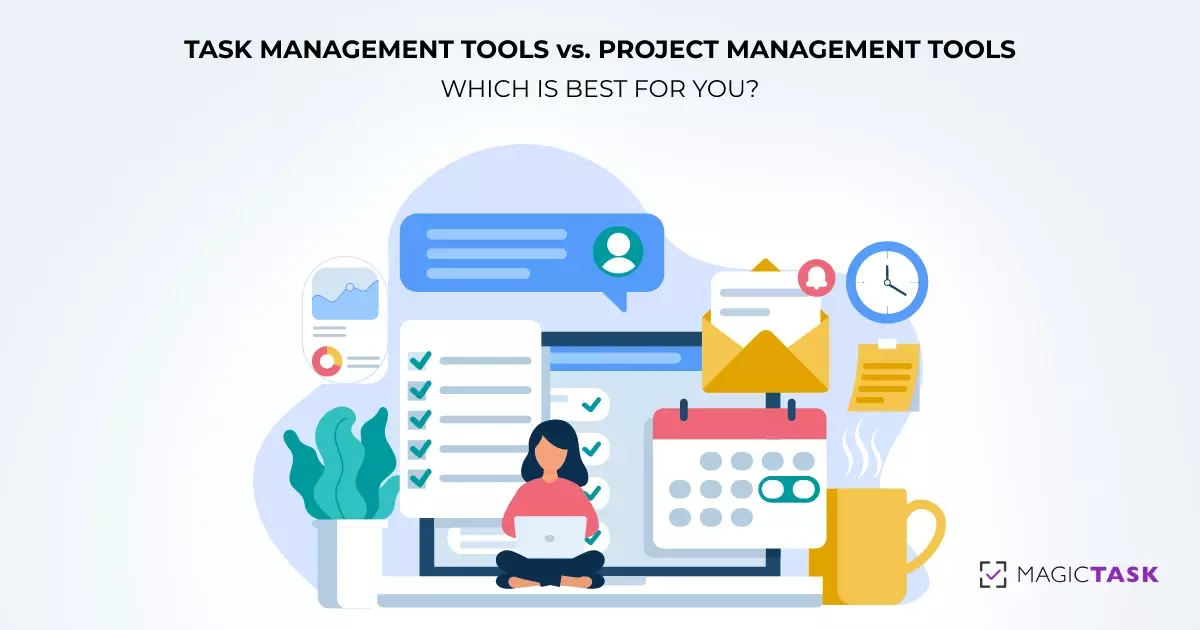 As we go through different phases in our lives, we are faced with different responsibilities and duties. In school and college, it could be finishing assignments on time and getting good grades. Once we have a job, we have a new set of tasks and responsibilities.
One of the constant aspects of life appears to be that we have to keep a to-do list in our heads and track its progress. These lists often tend to be our most prominent contributors to stress. This is where task management or project management tools can help you. Both of these tools aim to help you manage your tasks more efficiently and effectively and reduce your stress.
But task management and project management tools are not built the same. Let's explore what they are and how they are different and figure out what's best for you.
What is a Task Management Tool?
Task management tools are designed to plan and carry out tasks efficiently and on time. They're generally simple tools and are often targeted toward individuals to help them plan their day or weeks.
Users can manage simple tasks with a task management tool, such as getting groceries, doing the laundry, or paying the bills. While you can add and manage more complicated projects using task management tools, they're not designed for that.
Many task management tools are available these days, both for individual and enterprise use. The capabilities of these tools often vary wildly. Some of them let you make a checklist of tasks, while others come with automation and other features.
Initially, task management tools were rather a to-do list, often with a reminder. Even now, many prefer such an approach and use tools like Google Keep to plan their tasks. But over time, we better understand how the human brain works. And soon, developers started coming up with solutions designed to keep the user at maximum productivity.
Modern task management tools are rarely a calendar or a list of tasks. They're designed to help users complete their tasks efficiently, on time, and with the least effort. They have evolved to become productivity management tools. In fact, some of the task management tools are designed around productivity techniques like the Pomodoro technique.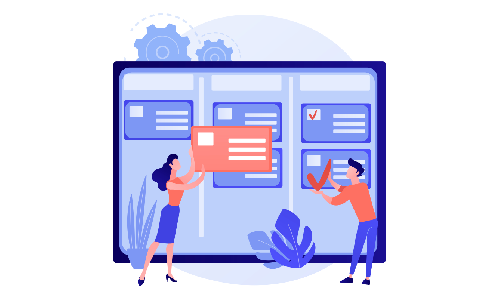 Productivity techniques were also designed to best use task management tools. For instance, the Getting Things Done method helps users to reduce cognitive load with the help of task management tools.
Generally, a modern task management tool allows users to
Add tasks, describe them in detail, and add reference materials.
Set due dates and reminders.
Add labels to the tasks.
Set priorities and sort the tasks into separate lists.
Set intelligent automation for recurring tasks.
Get a bird's eye view of all the tasks.
What is a Project Management Tool?
Project management tools help teams and organizations manage large-scale projects and events. Project management tools are usually designed for teams. They often come with many features for effective collaboration.
Managing a project is more complicated than checking off tasks one by one. Projects usually involve more than two or three people and have many tasks to execute.
The people involved will have different roles depending on their skills and expertise. They will be responsible for handling various aspects of the project. Some tasks may be executed parallelly and independently of others, while others may have dependencies. For instance, imagine you're building a website. Here the UI designers must deliver the interface before the front-end engineers can develop it.
Each of these tasks will have due dates, and so will the deliverables for the entire project. Project managers will also have to ensure the quality of the deliverables. Project managers may have to include other stakeholders or testers to check the quality of deliverables for a task before they can be used to carry out the next step. The team members for a specific project may simultaneously be involved with other projects.
A project management tool, therefore, will have to help teams manage all of this and help them streamline their workflow. It should improve the overall productivity of the team and the individual team members.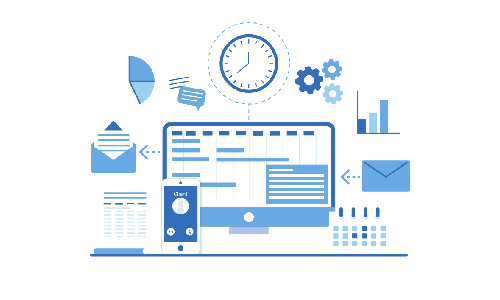 Project management tools have had a long history and have evolved a lot over the decades. They have their beginnings in construction and military projects. The software development industry gave them huge boosts as well. Most of the project management tools currently in existence mainly cater to software development teams and companies.
In general, management tools allow users to
Create tasks and assign them to different team members
Set due dates and reminders
Set priorities and add labels
Keep track of the task status
Give an overall view of the various tasks in a project
Keep track of the tasks of an individual team member and what they're working on at the moment.
Allow different types of access to users.
Automate parts of their task management duties.
Task Management Tools vs. Project Management Tools: What is the key difference?
While there are plenty of similarities, task and project management tools are not the same. Here are some of the differences between the two:
Task management tools are more for individuals. Project management tools tend to be geared toward collaborations.
Task management tools, in general, are made for individuals. They can use it to handle their personal and professional tasks easily. Individuals can use them to plan their day or week and ensure they have plenty of time to manage their tasks. They can prioritize the different tasks, set reminders, and define the deliverables in detail.
Project management tools are designed with collaboration in mind. They're built to help teams work together on a project and simplify communication between them. Project management tools allow team members to assign tasks to each other and communicate the details effectively.
That said, many task management solutions do allow you to collaborate on different tasks. But it will make little sense to collaborate with multiple users on a large project with the help of a task management tool.
No rule says that project management tools must be used by more than one individual. A single user can also use a project management tool to sort their tasks and effectively get more visibility into them.
Task management is designed to manage individual and often unrelated tasks. Project management tools are created to manage multiple tasks connected to larger goals.
Task management tools are designed to help manage one-off tasks. You can also manage recurring tasks, but these tools aren't intended to combine tasks under a single umbrella. For instance, you can use them to remind yourself to buy paint and brushes, but there are better ideas to manage painting your living room.
On the other hand, you can use a project management tool to keep track of related tasks or even dependent on each other. For instance, picture your team working on a client project. Here, you can use a project management tool to plan different modules of the project and assign those to team members.
Project management tools act as task management tools for the team members.
For the project manager or the team leader, the project management tool will give a comprehensive view of the entire project. They can also find out what the individual members are working on.
But from the perspective of an individual team member, the project management tool will be more like a task management solution. They'll focus primarily on their own tasks while seeking help from others every once in a while. They can undoubtedly view the rest of the tasks and get the big picture, but they don't have to be much involved here.
Of course, this varies quite a bit with team members and their roles.
Project management tools often offer more comprehensive analytics and data for the admins.
Task management tools do give users data on their productivity. But these analytics are primarily for helping themselves improve. The goal of analytics in task management tools is for the user to become more productive and to help find strategies that work for them. Hence these tools place little importance on analytics suites.
With project management tools, analytics are a necessity. Project managers and team leads need these tools to objectively assess their team's performance. This data can play a role in employee evaluations and assessments. It may be necessary for billing purposes as well.
Use MagicTask for Project Management as well as Task Management.
MagicTask isn't designed just for project management or task management alone. One of the main design principles of MagicTask was to let the user decide how they want to use it, which also applies to this. It's up to the user to determine if they want MagicTask to handle their day-to-day task, use it to manage their projects, or both.
As common with task and project management tools, MagicTask lets users create tasks, add a detailed description, and set start dates, end dates, and due dates. They can assign different tasks to other users as well.
With MagicTask, project managers can create projects, add their team members, and streamline their workflow. The platform allows team members to collaborate efficiently. And it makes the whole process fun and exciting.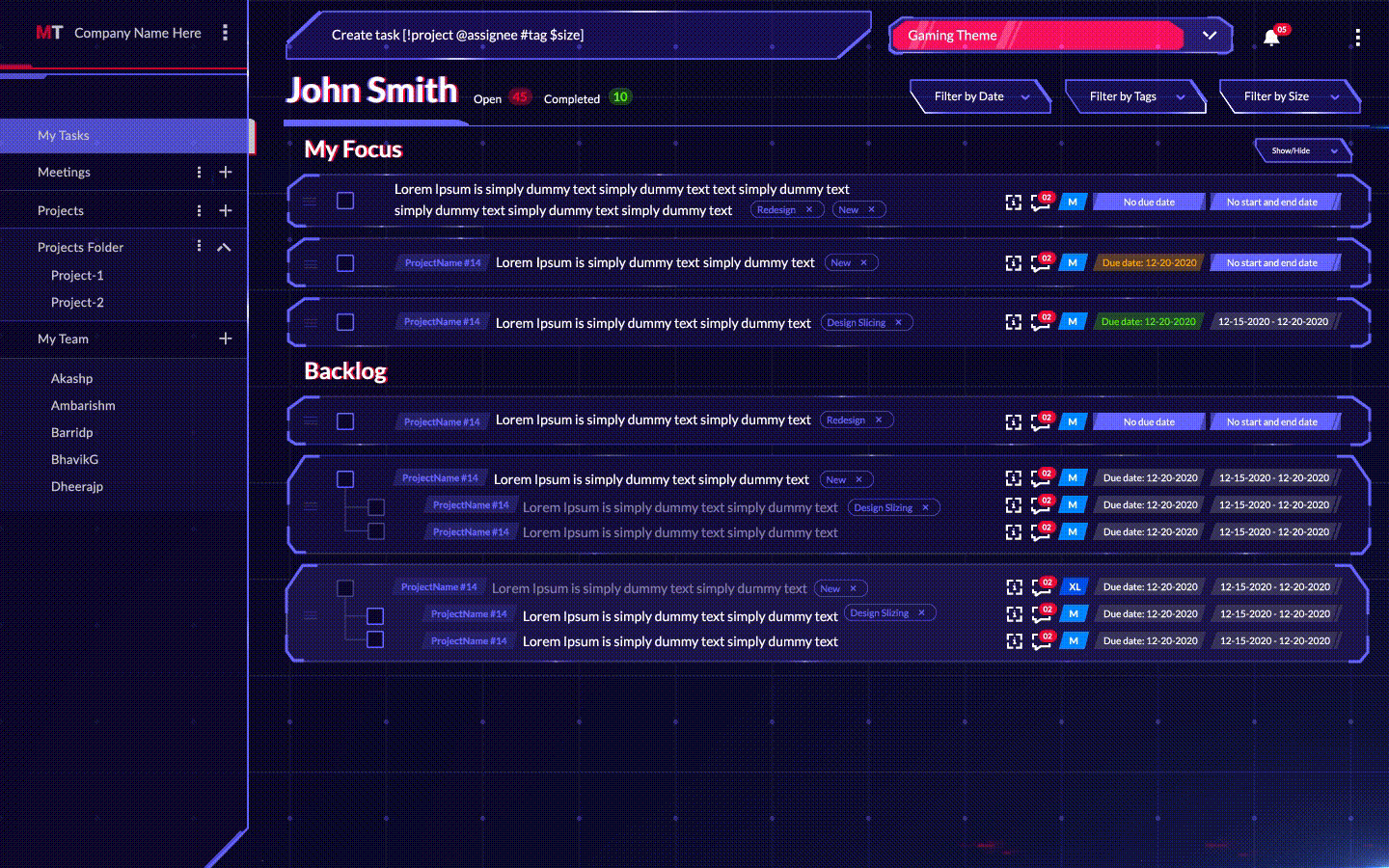 The platform is gamified, and users get points when they complete different tasks. They can use these points to compete with their team members and the global user base of MagicTask. Users can treat MagicTask as a task or project management tool with this approach.
Users can also use these points to get new themes that give the task management tool a fresh appearance. As users complete more tasks, the theme upgrades itself automatically and unlocks new features.
If you're a project manager using MagicTask, you can set priorities for your team on different tasks. You can also set a size for the tasks; you can set them as small, medium, large, and extra large.
Your team members can move their pending tasks to the "My Focus" area in MagicTask and create a small to-do list. You can use the same feature even if you're using MagicTask as a task management tool; you can drag the tasks for the day to this section.
Try Out Magictask for Managing Your One-off Tasks and Projects
MagicTask is designed to be simple and easy to use and lets users use it however they want to. Be it your personal or professional life, with MagicTask, users can handle their tasks in their own styles.
The platform is gamified even if you work on the tasks by yourself or with the help of a team. It will motivate you to be more productive and complete your tasks on time. Check out MagicTask, it's free, and it will supercharge your task and project management capabilities.
Similar Blogs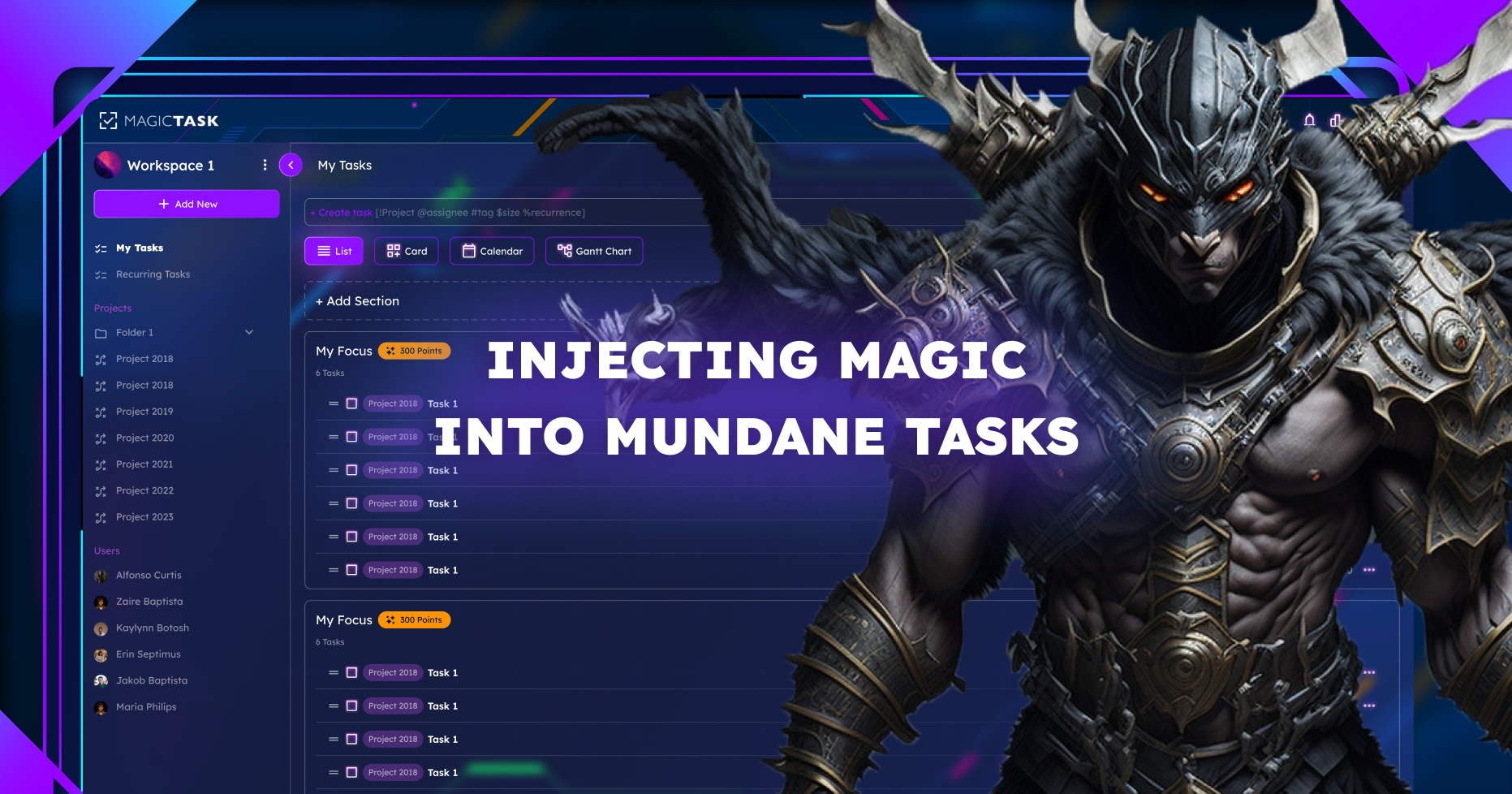 Injecting Magic into Mundane Tasks: A Sneak Peek at MagicTask V3's Concept Art!
Concept art has always been a window into the imaginative realms of creators, laying the foundati
Read More

→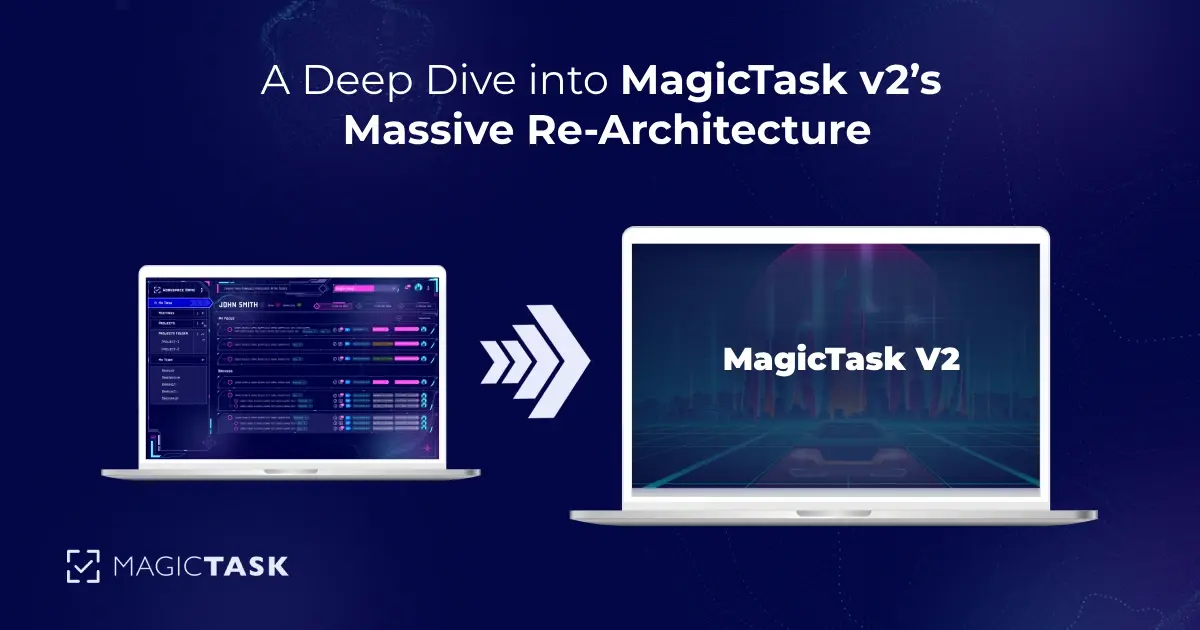 A Deep Dive into MagicTask v2's Massive Re-Architecture
Greetings MagicTaskers and devotees of efficient productivity!
We hope this message finds
Read More

→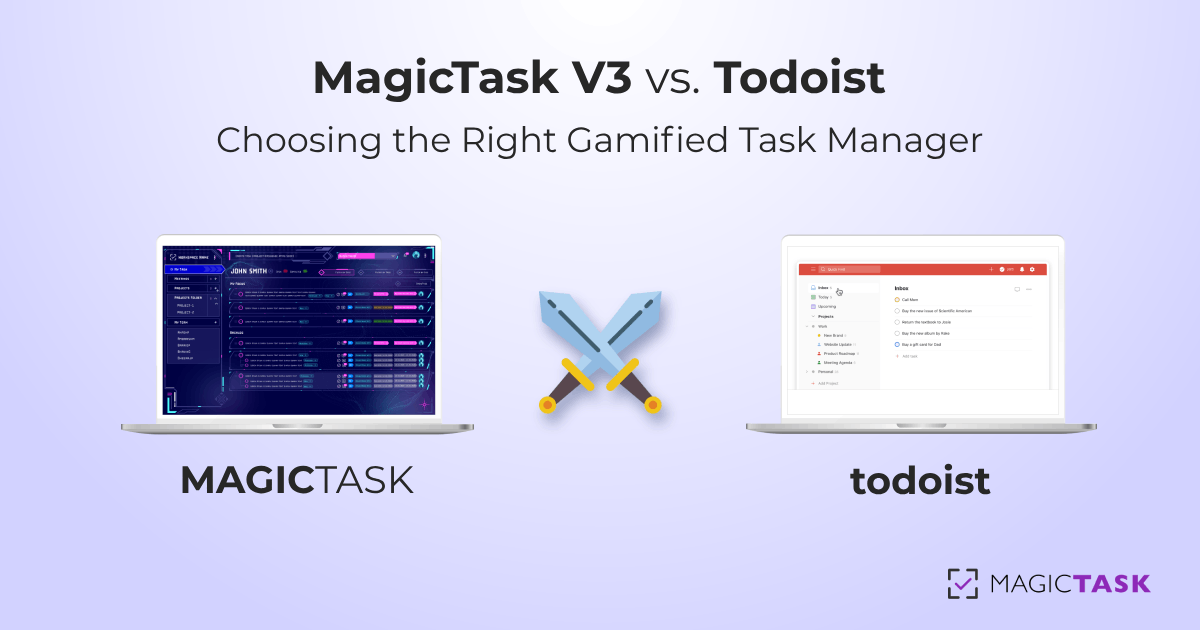 MagicTask V3 vs. Todoist: Choosing the Right Gamified Task Manager
Greetings, fellow gamers and productivity warriors! Today, we're diving into a battlefield that c
Read More

→