The Journey So Far: Constructing the MagicTask V3 Experience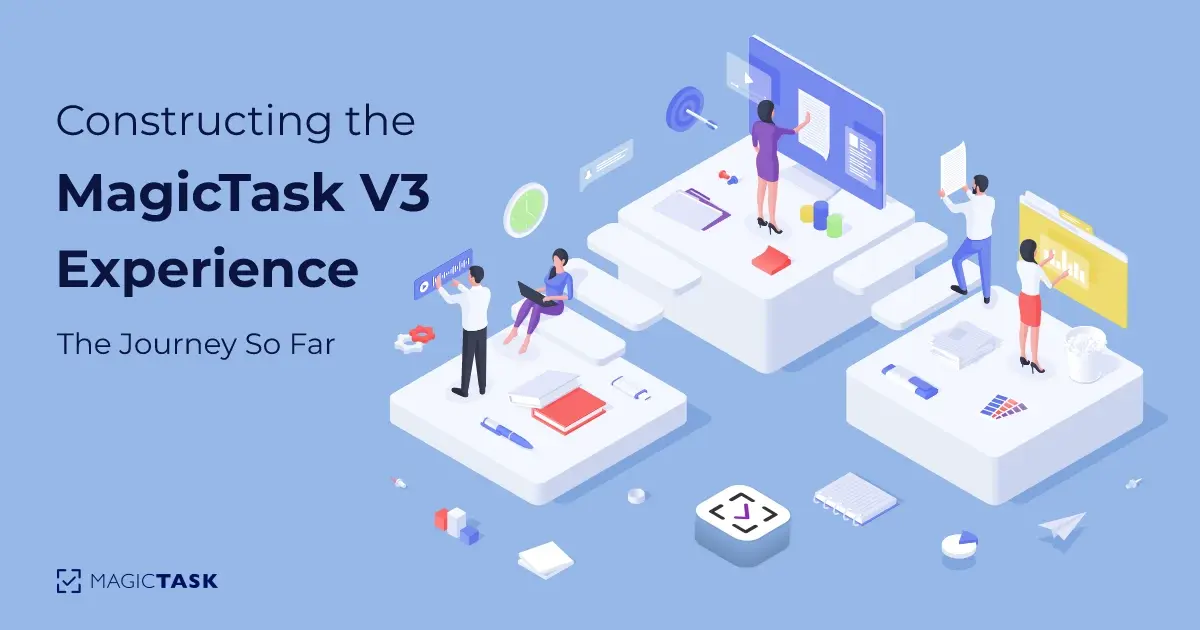 Hello fellow adventurers and productivity warriors! It's been quite the journey so far in the development of MagicTask V3. As we forge ahead in this quest, we thought it's high time we sat around the campfire, so to speak, and gave you a recap of our progress to date.
A Recap of the OOUX Methodology
In our previous posts, we've shared our exciting adventure through the world of Object-Oriented UX (OOUX) as part of the process of shaping MagicTask V3. The OOUX methodology has been an essential tool for us, guiding our decisions and helping us construct an engaging and intuitive user experience. Let's take a moment to reflect on the critical phases of the journey:
Defining the Objects: In the initial phase of OOUX, we started by defining the key objects in our system. These objects are essentially the building blocks of the application and include elements like 'Task', 'User', 'Project', and 'Team'.
Listing the Attributes: Once we had identified our objects, we then listed the attributes of each object, which helped us understand what each object is and what it does.
Mapping Relationships: The next step in our journey was to map the relationships between the different objects. Understanding these relationships was crucial to designing a system that felt intuitive and made sense to our users.
Outlining the User Flows: After mapping out the relationships, we moved on to designing the user flows. This process allowed us to visualize how users would interact with our system, how they would move from one object to another, and how they would accomplish their goals.
By following the OOUX methodology, we were able to build a solid foundation for MagicTask V3, aligning it more closely with how our users think and interact with the world. The result is a system that not only makes sense but also feels intuitive and engaging to use.
Also Read: Designing MagicTask V3: Crafting the Ultimate Gamified Task System with ChatGPT (Part 1)
The Call for User Feedback
With the groundwork in place, we're now moving into the next critical phase of development: user feedback. This is where we look forward to engaging with you in meaningful dialogue, gleaning valuable insights from your experiences, thoughts, and suggestions. To facilitate this, we are actively scheduling as many calls as possible with you, our users, fellow gamers, and industry experts.
Your insights are the guiding stars in our development journey. They help us understand your needs, your preferences, and your expectations, all of which are crucial elements that shape MagicTask V3. Whether it's feedback on the current version, thoughts on the new features we're planning, or fresh ideas you'd like us to consider, we're all ears.
We have created a dedicated platform for you to book a meeting with us. Feel free to choose a time that suits you best from this link: MagicTask V3 Discussion. In these discussions, we hope to hear your stories - your experiences with MagicTask V2, your ideas for V3, and even the challenges you face in task management.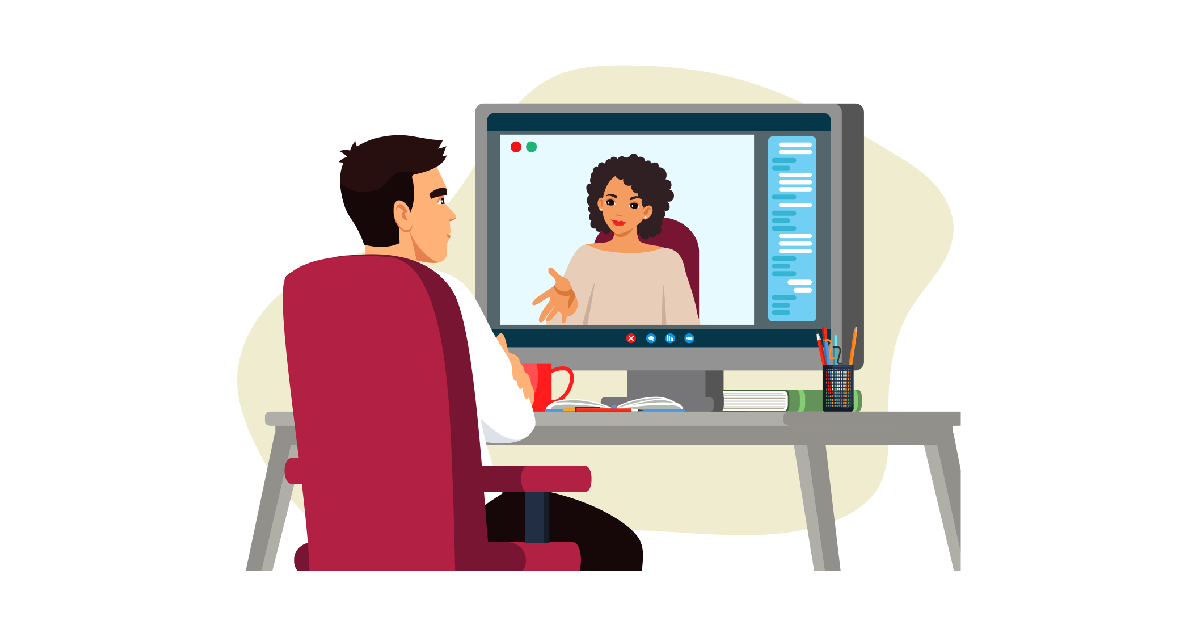 Your unique perspective is invaluable in helping us refine the system, address any potential blind spots, and ensure that MagicTask V3 will be a product that not only meets your needs but exceeds your expectations. By joining us in this discussion, you'll be playing an integral part in shaping the future of MagicTask.
In the end, MagicTask V3 isn't just our product, it's our collective brainchild. It's the result of a shared passion for gaming and productivity, a tool crafted to make the process of task management an enjoyable adventure.
Also Read: Designing MagicTask V3: Powering Up Empathy in Our Gamified Task Management System for Hardcore Gamers
MagicTask V2 Thriving: A Milestone Achieved
Even as we craft the future with MagicTask V3, our commitment to the present remains unwavering. It brings us immense joy to witness how MagicTask V2 is empowering our users to manage their tasks effectively and efficiently. This utility, combined with the excitement of gamified productivity, has led to remarkable engagement and achievement amongst our users.
One such notable milestone is from our very own team at Imaginovation. We are thrilled to share that we have recently smashed through the 50,000 tasks completed mark! This achievement not only stands as a testament to our commitment to productivity but also the robustness and utility of MagicTask V2. You can explore more about our journey and work on our website www.imaginovation.net.
MagicTask V2 remains fully operational and continues to serve as a sturdy companion in your quest for productivity. If you haven't already, we encourage you to explore and engage with it. The gamified elements woven into MagicTask V2 aim to make productivity not just a goal, but a rewarding and exciting journey.
Join Us in Shaping MagicTask V3
As the horizon of MagicTask V3 comes into view, your role in shaping this journey becomes ever more crucial. We are treading an exciting path, and your insights, feedback, and experiences will serve as our guiding beacons.
We extend an open invitation for you to join us in this quest for innovation, to help us create a product that seamlessly melds the thrill of gaming with the discipline of productivity. Your voice matters in this endeavor. Be it a new feature suggestion, a refinement to an existing one, or your overall user experience with MagicTask V2, we're eager to hear it all.
Onward, to Productivity and Beyond!
As we continue building MagicTask V3, we keep our users at the center of the process. We're determined to develop a tool that not only boosts productivity but also turns it into a rewarding and fun experience. As we blend the worlds of gaming and task management, we invite you to join us on this exciting journey.
Whether it's sharing your thoughts on MagicTask V2, your anticipations for V3, or ideas for the future, we're eager to hear from you. So, prepare your best productivity strategies, sharpen your gaming skills, and join us on this exciting quest.
Onward, to productivity and beyond!
Similar Blogs
From Quests to Collaboration: How MagicTask and Habitica Shape Team Dynamics
In a world where work and play increasingly intertwine, platforms like MagicTask V3 and Habitica
Read More

→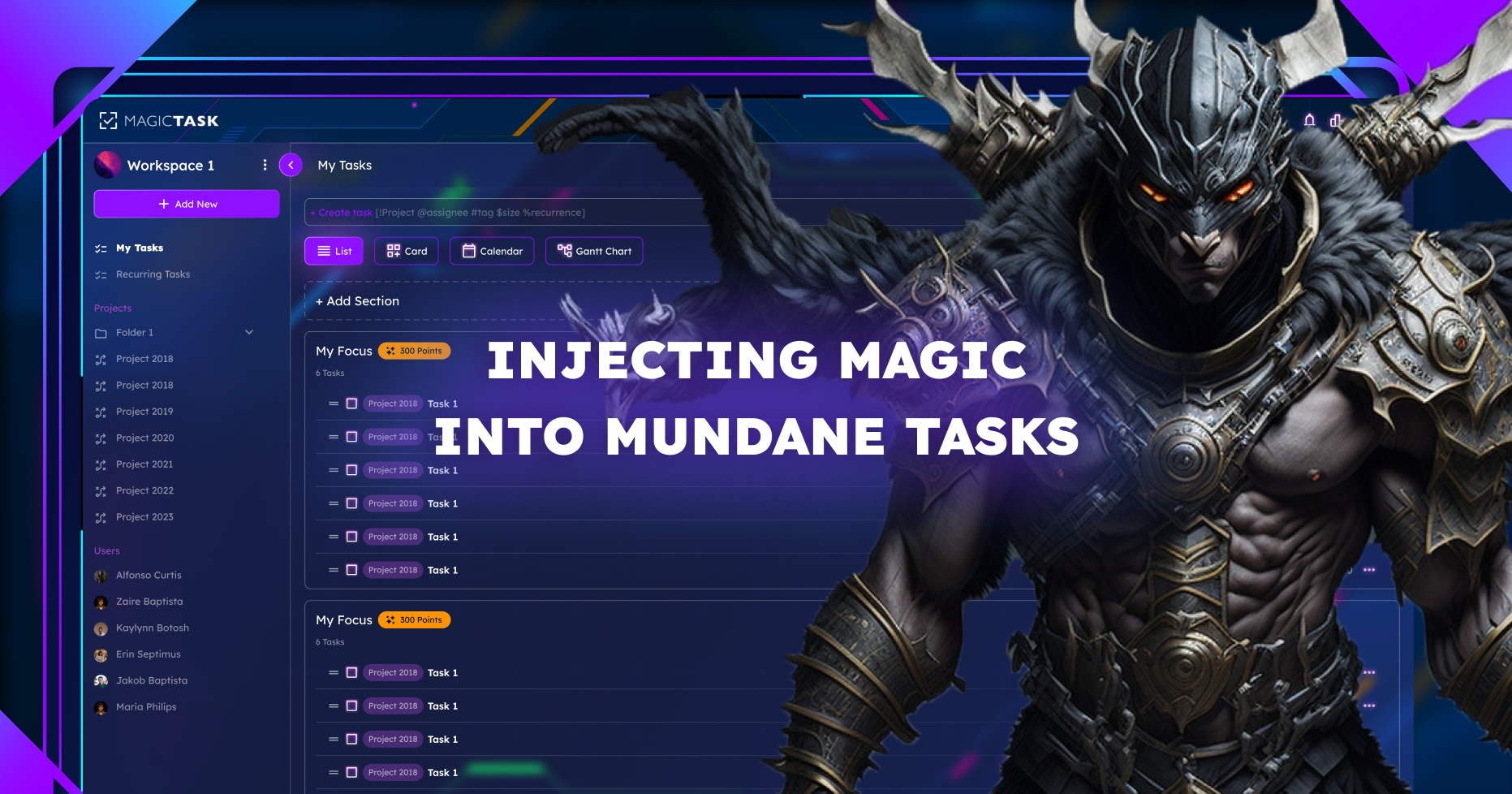 Injecting Magic into Mundane Tasks: A Sneak Peek at MagicTask V3's Concept Art!
Concept art has always been a window into the imaginative realms of creators, laying the foundati
Read More

→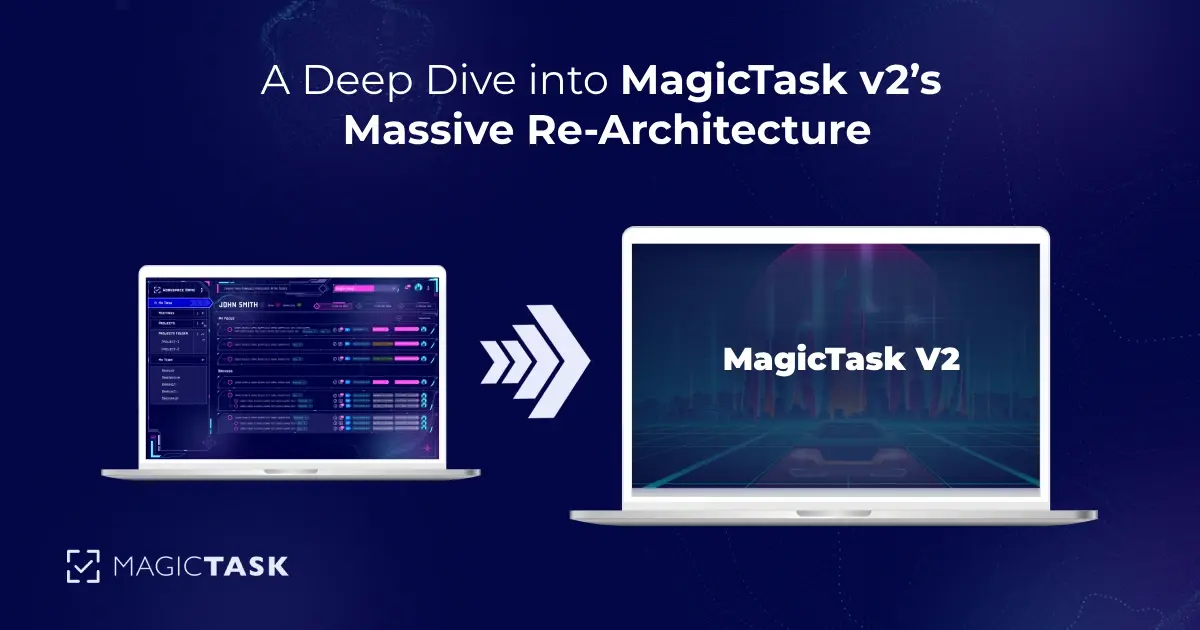 A Deep Dive into MagicTask v2's Massive Re-Architecture
Greetings MagicTaskers and devotees of efficient productivity!
We hope this message finds
Read More

→